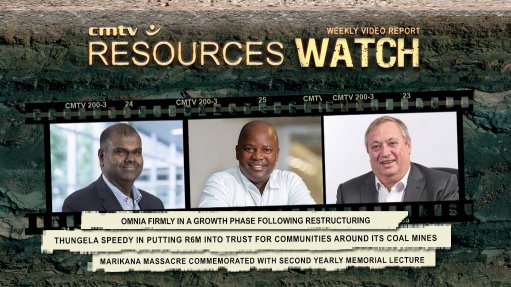 Welcome to Creamer Media's Resources Watch, a weekly video round-up of the events and people making and shaping the news in the mining industry.
This week:
Omnia firmly in a growth phase following restructuring
Thungela speedy in putting R6m into trust for communities around its coal mines
And, Marikana massacre commemorated with second yearly memorial lecture
Diversified chemical manufacturing company Omnia intends to "settle down" following the completion of its strategic restructuring, and to take some time to focus on its people, culture and setting a "firm foundation to grow from".
Omnia CEO Seelan Gobalsamy:
With the new Thungela Resources only months old, the JSE- and London-listed coal mining company has already put an initial R6-million into a trust for the benefit of the communities living around its coal mining operations.
Thungela CEO July Ndlovu:
Sibanye-Stillwater recently held its second yearly Marikana Memorial Lecture to commemorate the August 16, 2012 massacre, when members of the South African Police Service opened fire on striking miners at a hill near the mine, killing 34 people and injuring others after a prolonged strike event.
Sibanye-Stillwater CEO Neal Froneman:
For mining news as it breaks, stay logged onto Mining Weekly.com and register for our free daily newsletter.