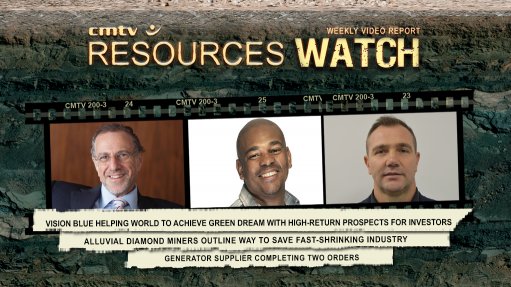 Welcome to Creamer Media's Resources Watch, a weekly video round-up of the events and people making and shaping the news in the mining industry.
This week:
Vision Blue helping world to achieve green dream with high-return prospects for investors
Alluvial diamond miners outline way to save fast-shrinking industry
And, Generator supplier completing two orders
The world's energy transition away from fossil fuels is a phenomenon that is not dependent on any assumptions about gross domestic product growth or countries urbanising or industrialising.
Energy and mining luminary Sir Mick Davis:
The number of alluvial diamond operators is decreasing at an alarming rate. The South African Diamond Producers Organisation outlined the rewards South Africa could potentially harvest with the right regulations and a lower cost of doing business.
Sadpo national executive committee member Amo Marengwa:
International power generator supplier Cummins has recently commissioned one mining site and is in the process of commissioning a further site where both system monitoring and control philosophies, were upgraded.
Cummins Southern Africa power generation leader Warrick Gibbens:
For mining news as it breaks, stay logged onto Mining Weekly.com and register for our free daily newsletter.