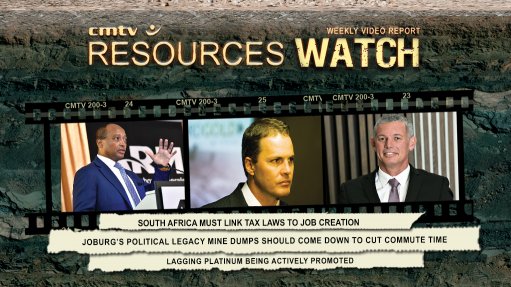 Welcome to Creamer Media's Resources Watch, a weekly video round-up of the events and people making and shaping the news in the mining industry.
This week:
South Africa must link tax laws to job creation
Joburg's political legacy mine dumps should come down to cut commute time
And, lagging platinum being actively promoted
The private sector worldwide is the engine for job creation, in partnership with trade union organisations, government and communities, and South Africa must link its tax legislation to job creation.
African Rainbow Minerals executive chairperson Dr Patrice Motsepe:
South Africa Inc should be doing much more to incentivise the recovery of precious metals from tailings dams for sound societal and environmental reasons that could free Johannesburg of its artificial 'Berlin Wall'-type political legacy barriers that tilt commute times unfairly and block new-era residential development.
DRDGold CEO Niël Pretorius:
Demand for platinum, the price laggard of the high-flying platinum group metals basket, is being actively promoted on several fronts.
Implats CEO Nico Muller:
For mining news as it breaks, stay logged onto Mining Weekly.com and register for our free daily newsletter.