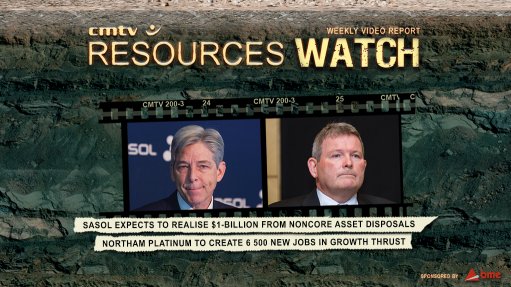 Welcome to Creamer Media's Resources Watch, a weekly video round-up of the events and people making and shaping the news in the mining industry.
This week:
Sasol expects to realise $1-billion from noncore asset disposals
And, Northam Platinum to create 6 500 new jobs in growth thrust
Chemicals and energy group Sasol expects to realise more than $1-billion from the disposal of noncore assets in the coming few years.
Sasol joint CEO Stephen Cornell:

PGMs mining company Northam will be generating 6 500 new mining jobs in the next four to five years, which dovetails with President Cyril Ramaphosa's 'sunrise' aspirations expressed in his well-received State of the Nation Address.
Northam Platinum CEO Paul Dunne:
For mining news as it breaks, stay logged onto Mining Weekly.com and register for our free daily newsletter.