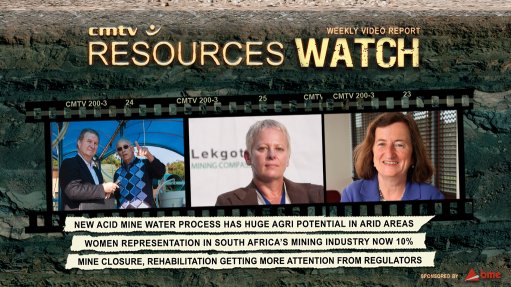 Welcome to Creamer Media's Resources Watch, a weekly video round-up of the events and people making and shaping the news in the mining industry.
This week:
New acid mine water process has huge agri potential in arid areas
Women representation in South Africa's mining industry now 10%
And, mine closure, rehabilitation getting more attention from regulators

The newly developed process that yields handsome profits by converting acid mine water into valuable fertiliser materials, also has the potential to process South Africa's large volumes of currently unusable brackish groundwater.
Trailblazer Technologies director John Bewsey


Women representation in the South African mining sector had grown from 7% to 14% at the start of 2015. However, by the end of 2015, the number of women in South Africa's mining sector had decreased to 10%.
Women in Mining SA chairperson Noleen Pauls

Regulators worldwide are starting to pay more attention to mine closure and rehabilitation strategies because there are more unplanned closures in this economic cycle and far greater public awareness of the issues concerning mine closure and rehabilitation.
Wits Centre for Sustainable Mining and Industry director professor Caroline Digby

For mining news as it breaks, stay logged onto Mining Weekly.com and register for our free daily newsletter.