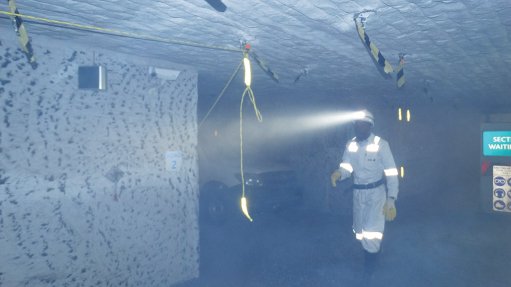 Rescue One Equipment, a proud member of the Mine Ventilation Society of South Africa, was established in 1996 to develop products to eliminate unnecessary deaths owing to smoke inhalation in the mining industry. The company has developed a number of patented and trademarked systems to enable miners to reach safety quickly, timeously and alive.
One such system is Rescue One's Lifeline®, a directional rope system used to quickly help miners to safety in zero visibility conditions.
In addition, Rescue One has developed the innovative Frontline®
early-warning detection system which detects smoke or carbon monoxide up to 1 000 m away, using the mine's monitoring system. Frontline releases a powerful fragrance into the intake airflow system of the mine, warning miners and ensuring early evacuation.
A refuge bay kit is another key element of safe emergency evacuation. Rescue One's new and improved Refuge Bay Kit has a number of unique features, inlcuding a digital display battery charger and 12-hour battery backup, a control panel fitted with a tamper-alert siren and a stand for additional flexibility. The digital voltage display allows for readings to be communicated to surface rescuers during power outages, providing essential rescue-time information.
The recently launched Rescue One Rescue Trailer provides life-sustaining supplies to trapped miners through a borehole situated above the refuge bay. The canopied trailer is fitted with a diesel generator, fan, spotlight, two jerrycans, four container bullets and a winch tower. Exxaro Matla Colliery was the first to deploy Rescue One Rescue Trailers on its mines.
Rescue One's Lifeline® Easy Clip was developed for Lifeline® roof installations but is also used by mines in various novel ways, such as securing electrical cabling.
Rescue One's latest endeavour is emergency evacuation training for underground mines – a need identified in South Africa and world-wide. To be part of this exciting initiative, please contact Nigel on
+27 82 904 0871 or Davida on +27 83 287 6015.
Rescue One Equipment is committed to its aim of saving lives and is focused on finding innovative solutions to its client's emergency evacuation challenges.