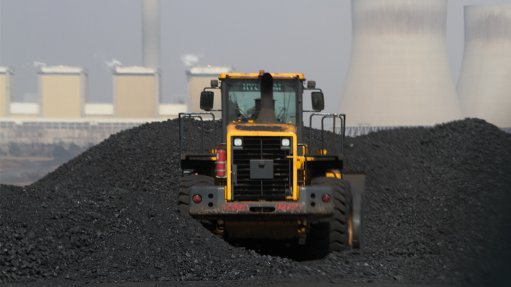 Photo by: Creamer Media
South Africa should freeze investment in new private coal plants, as delaying South Africa's "inevitable" transition away from the carbon-emitting energy mineral will cause economic damage, a new Trade & Industrial Policy Strategies (TIPS) analysis on the country's coal value chain states.
Co-authored by TIPS economists Neva Makgetla and Muhammed Patel, the report argues that the coal sector is mired in a classic process of creative destruction, whereby disruptive technologies have developed to a point where older assets can no longer compete and ultimately have to be written off.
South Africa's Integrated Resource Plan of 2019 (IRP 2019) includes an allocation for 1 500 MW of new private coal. This, despite indications that such projects would add to domestic electricity costs and the fact that two previous coal projects selected as preferred bids in a since stalled government procurement programme, Khanyisa and Thabametsi, have largely lost their initial foreign and domestic funding support.
South Africa's "clinging to coal" over the past decade has already led to escalating electricity tariffs, which more than doubled from 2008, as well as intensifying load-shedding.
"Hard policy choices" were thus required to limit the damage, including freezing investment in new private coal plants, such as those catered for in the IRP 2019, and a mooted 3 500 MW coal plant proposed for the Musina Makhado Special Economic Zone, in Limpopo.
Proceeding with such projects, the analysis argues, will make it virtually impossible to achieve national carbon emission reduction commitments and would only add to the ultimate costs, without securing sustainable benefits.
The other immediate actions proposed in the TIPS report include:
lifting unnecessary regulatory limits on investment in renewable and storage capacity, including restrictions on Eskom investment in cleaner energy sources;
encouraging the aluminium and ferroalloy refineries and Sasol to safeguard their longer-term export prospects by developing cleaner energy sources and introducing electricity-saving processes as rapidly as possible;
reviewing the timeline for closing down coal plants, given an Eskom proposal to shut down some of its power stations to open space for other energy sources.
Makgetla and Patel also urge more coordinated oversight in order to ensure that policies and structures are put in place to manage the risks and costs of the transition, which will take decades to unfold, and to maximise the benefits.
JUST TRANSITION
Relevant agencies, such as government departments, Eskom and the National Energy Regulator of South Africa, should have their mandates adapted to prioritise a "just, efficient and urgent energy transition".

The report also calls for a capacitated leadership structure that could give voice to all of the relevant agencies but then make binding decisions in areas of disagreement.
"For the coal value chain, the Presidential Climate Commission could provide decision support and facilitate consultation with stakeholders. The National Economic Development and Labour Council could also facilitate engagement with economic stakeholders both inside and outside of the coal value chain," the report outlines.
Given that the coal value chain employs around 200 000 formal workers, almost all of whom are based in four districts of Mpumalanga – eMalahleni (Witbank), Steve Tshwete (Middelburg), Govan Mbeki (Secunda) and Msukaligwa (Ermelo) – the authors argue that a decision needs to be made as to the level of resources that should be set aside to help workers, small businesses and their communities to develop alternative livelihoods.
"Ideally, the [just transition] process would be managed by an adequately resourced and capacitated regional coordinating agency since it requires a whole-of-government approach," the report states.
It argues that the strategy should start by identifying realistic and sustainable energy and non-energy options to diversify regional economies in ways that provide livelihoods on the necessary scale for the affected communities.
Secondly, a just transition process should use industrial and labour-market policy instruments to assist the people and businesses concerned to take advantage of the identified opportunities.
"Finally, effective just transitions should give vulnerable communities and workers agency, including through a voice in decision-making and ownership in new production capacity," the authors assert.