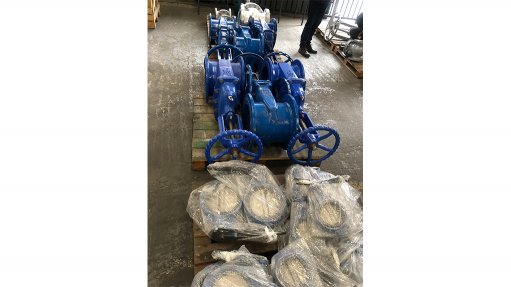 MANUFACTURING FOR MINES LVSA Group started manufacturing valves for mining applications in 2020 and recently delivered locally manufactured valves to two African mining operations
South Africa-based valve manufacturer LVSA Group completed the manufacturing of valves for a Ghanaian gold mine and a South African coal mine last month.
The orders, comprising knife gate, pinch, diaphragm, and RSV gate valves for slurry applications, were placed in April, says LVSA marketing manager Andrew Pillay.
"The mines, which have installed the valves, were very happy with the delivery of the 100% locally manufactured valves.
"Through its support team with more than 40 years' experience, LVSA offers on-site technical assessments of valve requirements, providing the expertise needed to ensure that the correct valve is procured for the correct application. We are a one-stop repair shop onsite and offsite," he emphasises.
Focused on supplying the petrochemicals industry since its establishment in 2002, LVSA realised the need to introduce local valve-manufacturing facilities in 2018, subsequently beginning its journey to design and manufacture its range of valves.
The company has entered into an agreement with static and centrifugally cast components manufacturer Steloy Foundries to deliver tailor-made casting solutions at competitive pricing and its manufacturing facility covers 6 000 m2 under roof. With distribution and repair centres in Durban, Johannesburg, Cape Town, Zambia and Mozambique, LVSA aims to become South Africa's leading valve manufacturer.
The company branched into the manufacturing of valves for mining applications during the Covid-19 pandemic in 2020, owing to government's emphasis on local content. It subsequently added new valves, such as pinch, diaphragm, wedge and RSV gates valves, to its product portfolio, which also includes products for the water and waste, as well as food and beverage, industries.
LVSA is also one of the first companies to obtain API 600 approval for local manufacturing of petrochemicals valves and has SABS 664 and ISO 9001/2015 certification. The company is the only valve company in Africa listed with valve technical association Manufacturers Standardisation Society, adds Pillay.
"The challenges we face as local manufacturers is competing with imported valves. We, therefore, ask mining bosses and the rest of the industry to support locally manufactured valves in South Africa, so we can continue to keep South Africans employed," he concludes.