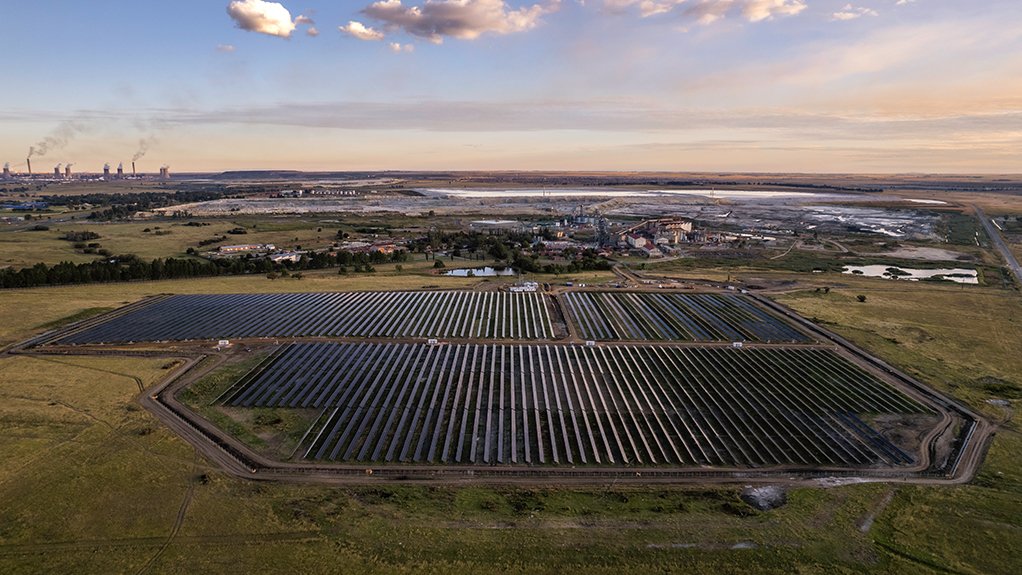 Evander mine solar plant
In anticipation of the African Renewable Investment Summit, Gilles Durmont, Head of Business Development at JUWI South Africa, sheds light on the intertwined nature of renewable energy and mining. Gilles will expound on this topic during the panel discussion titled "The Potential for Africa's Mining Sector in Driving Renewable Energy Investments."
In South America, there's a type of frog that lives with tarantulas for protection in exchange for keeping ants off their eggs. In Africa, crocodiles get their teeth cleaned by plover birds. Symbiotic relationships are often surprising at first glance, but once the benefit to both parties is understood, they seem like obvious solutions.
Much like the surprising symbiotic relationships found in nature, the connection between the renewable energy and mining industries initially raised eyebrows. Historically, mines and environmentalists were more accustomed to facing off in courtrooms, their objectives seemingly incompatible. However, in recent years, with the rise in sustainability imperatives, emissions reductions targets and falling renewable energy technology costs,, a new opportunity for meaningful change has emerged.
Whether we like it or not, the transition to renewable energy hinges on mining. Rising demand for renewables means a growing need for mining essential resources, such as iron, copper and lithium, which take an enormous amount of energy to extract. For perspective,1 MW of solar energy requires the extraction of about 64 tons of iron ore and aluminum.
The upshot is that mining operations demand significant power, with estimates suggesting they account for 11% of global energy consumption. This reality poses a conundrum in the fight against climate change, particularly when mines reliant on fossil fuels release substantial amounts of greenhouse gasses when mining resources for renewable energy. The more challenging a mineral is to extract, the greater the energy requirement.
Mining companies have not been blind to the imperative of environmental responsibility and mining leaders have made significant strides to reduce carbon emissions. Substantial progress has been made in technologies and processes often spurred by regulation rather than the business case for renewables. With the cost of renewables falling significantly in recent years, mines have taken note of the strong business cases for installing renewables in order to tangibly reduce operational costs and for mining so called 'green minerals' - those minerals critical to the energy transition.
One mining sustainability leader, gold producer PAN African Resources, has set its sights on decarbonising much of its operations. One of its solar plants provides a good illustration of the business case for renewables. JUWI erected a 10MW solar plant at PAR's Evander mine, resulting in monthly energy bill savings ranging from R2.5 to R3 million and the system will pay for itself in under five years.
The off-grid Sukari Gold Mine in Egypt, which previously relied on diesel for power is another great example. JUWI constructed a 36 MW solar plant and battery energy storage system, saving the mine roughly 22 million liters of diesel annually. Based on current diesel prices, this translates to potential annual cost savings of 20 million US dollars, or approximately 400 million rands.
One might wonder, if the benefits of renewables for mining are so evident, why haven't all mines transitioned to renewable energy? Once again, the answer lies in economics. Renewable energy was not always a financially feasible option, as it carried a significantly higher price tag compared to fossil fuel alternatives. In 2010, Solar PV was a staggering 710% more expensive than its cheapest fossil fuel counterpart. Such a vast cost difference would be difficult for any business to justify. In addition, renewable energy was not dispatchable (it fluctuates and cannot be controlled) and therefore not reliable. Fast forward to today, and the tables have turned. Solar PV is now approximately 30% less expensive, a trend we anticipate will persist. In addition, battery technologies have addressed the dispatchability issue, which makes renewables a true viable alternative to thermal power.
Zooming in on South Africa, electricity tariffs have surged by roughly 650% since 2007, a fourfold increase compared to inflation. This spike has hit power-intensive industries like mining particularly hard. Consequently, mining companies in South Africa alone are poised to invest US$3.8 billion in renewable energy projects, with 585 MW of solar projects either in the planning stages or already operational.
The mining industry, once considered a curse to environmentalists, has now become a driving force behind the adoption of renewable energy. The ramifications of this shift are profound, especially for Africa, which boasts 30% of the world's mineral reserves. I eagerly anticipate further exploration of this topic in the upcoming panel discussion at the Africa Renewable Investment Summit.