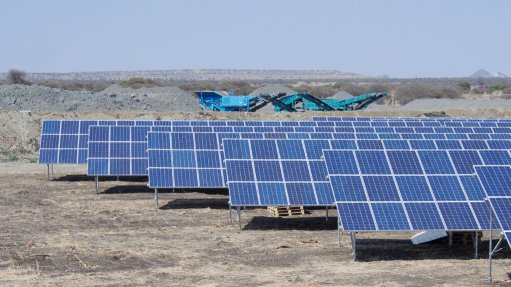 Photo by: Cronimet Power Solutions
TORONTO (miningweekly.com) – A study recently published by the Sir Richard Branson-founded Carbon War Room has found that by implementing renewable energy generation solutions in mining and big-industry projects in South Africa, especially at those located off-grid, companies stand to rein in energy costs and hedge against fuel price volatility.
In its report 'Sunshine for Mines', the Carbon War Room mainly looked at the measure of success with which mining and energy solutions firm Cronimet Mining - Power Solutions had implemented an initial phase of 1 MW off-grid solar photovoltaic (PV) energy combined with diesel generation sets, to create a hybrid renewable energy solution at its chrome mine, in the country's Limpopo province.
The report concluded that despite current decreased profitability, the local South African mining industry was expected to grow, and as a result, the industry's focus had shifted from increasing value by increasing production volumes, to increasing returns from existing operations through improved productivity and efficiencies.
Implementing renewable energy into the energy portfolio of off-grid operations can help rein in energy costs and should, therefore, be a key approach for mining firms in coming years.
Carbon War Room senior associate in research and intelligence Matthew Cullinen told Mining Weekly Online that any mine with off-grid operations in South Africa that does not explore replicating what Cronimet had done at their Thabazimbi mine, is losing money.
"It won't be the right choice for every operator – as the expected life span of the mine plays a big role – but at the very least, every firm needs to consider this approach as a way to hedge against diesel price volatility, and bring down operating expenses," he said.
Simultaneously, Cullinen pointed out that with the buy-in of mining and 'big-industries', it is potentially the biggest opportunity for developing a renewable energy market in the parts of the world that are most deprived of basic energy services.
According to him, about 1.4-billion people lack access to energy, the majority living in sub-Saharan Africa.
"Growth in the use of solar for mines and other heavy industries will help create a mature market that can serve communities as well as companies. And as mines look to build out solar capacity, they might also look towards how that could be a legacy asset for local communities for years after the closure of a mine," he said.
It was only in recent years that the cost benefits became apparent. For example, the significantly reduced risk and costs of diesel fuel transport to Barrick Gold's remote operations, especially in South America, the reduced emissions and the shelter from oil price volatility had resulted in an increasing awareness within the company that renewable power sources were increasingly becoming business propositions.
Barrick had invested in wind projects in Chile and Argentina, including the 20 MW Punta Colorada wind farm that was intended to support the halted giant Pascua-Lama project.
Even in Australia renewable energy for mines is taking off with First Solar recently announcing that it intends to construct a set of solar power plants amounting to 200 MW, to specifically provide miners with electricity.
Cullinen explained that in September 2012, the Carbon War Room organised a small workshop of renewable energy finance experts in New York, to direct and inform its research in the field.
This workshop was chaired by its former CEO and current board member Jigar Shah, the founder of Canadian PV firm Sun Edison, and established that focusing on renewable energy for off-grid mines and other heavy industries would be the best niche for it to conduct research in.
"We chose South Africa because from a very basic sweep, it appeared to be one of the biggest potential markets for such systems, and we already had a strong network of support and experts in the country," he said.
ALL ABOUT THE BOTTOM LINE
According to Cullinen, the biggest challenge for miners looking for competitively priced electricity in South Africa is the fact that there is no competition.
The energy market is controlled by Eskom, a partially State-owned monopoly, and mining firms that want competitively priced electricity can not go to a competitor for a better rate, as none exist in the country.
The only option is self-generation, which for some is obligatory because they are off-grid, but for others is a risk-management necessity, owing to the unreliability of the grid in South Africa.
Cullinen noted that gauging from the reception that the inaugural Renewable Energy for Mining Congress received in Toronto in September last year, and from the expectation for similar engagement at their upcoming summit in Johannesburg in June, the industry considers energy security and reining in rising energy prices as a significant bottom-line issue.
"You're seeing C-suite engagement at these events because it is becoming such a large part of mining operating costs," he said.
Gold producer Gold Fields' VP of group sustainable development Duncan Stevens aptly illustrated this trend by noting during the September Toronto Renewable Energy for Mining Summit that, "Energy costs are a driver for us given that energy accounts for about 18% of our operational cost base and this is likely to rise in a global context of increasing energy demand and constraints on supply."
Cullinen agrees, pointing out that it is purely an economic decision – mining companies are choosing these systems because it offers a solution for reducing the operating expenses associated with running diesel generators.
"Anecdotally we have also heard that mining firms think that building such systems from the outset will speed time to approval by regulators, as such systems will ensure that less expensive energy is available for land remediation after closure of the mine," he said.
However, the report also found that among the critical barriers to entry is awareness amongst mining firms.
"There is a real need to educate the industry about the value and technical feasibility of powering mines with solar-diesel systems.
"South Africa also does not currently allow for net-metering – this creates a big barrier for grid-connected customers who would like to offset their energy consumption through solar energy, and have a solar-diesel back-up in case of brownouts or blackouts," Cullinen said.
SOUTH AFRICAN LEADING EXAMPLE
Cronimet had built an initial phase 1 MW off-grid solar PV plant that was integrated into the electricity supply system at its chrome mine, in Limpopo.
The mine, which forms part of a larger international enterprise that supplies and recycles stainless steel raw materials, introduced the PV facility in an effort to reduce its reliance on diesel generators.
Until the end of 2012, the operation had been fully reliant on the generators, which were installed when the Thabazimbi-based mine was unable to secure a connection from national power utility Eskom.
The 4 170-panel facility spans a two-hectare area and was installed between August and December 2012, by solar contractor Solea Renewables and Cronimet Energy South Africa. The panels were imported from Jinko Solar, of China.
The solution is expected to have a payback period of less than four years and should operate for a period of 25 years – the mine reportedly had sufficient reserves to sustain mining for several decades.
The hybrid power solution generates electricity from the solar PV systems, integrated with the minimal use of diesel generators during the day, and switches over to full diesel generation for night operations.
In a recent interview with Mining Weekly Online, Cronimet Power Solutions MD Rollie Armstrong said that the plant produced about 1.8 GWh and is expected to displace 450 000 l/y of diesel fuel.
He explained that the diesel generators' technical application was perfectly in line with the requirements of PV, resulting in the generator set interacting dynamically with the PV site.
"We have recorded 20% to 30% reductions in diesel cost a year, and up to 60% in the daytime. The bottom line is that integrating renewable energy into mine operations saves on operating costs," Armstrong stressed.
Cronimet had recently upgraded the programmable logic controllers at the Thabazimbi mine. He noted that the equipment at the mine represented the company's state-of-the-art turnkey technology.
"Not only has this successful commercial demonstration plant served as an invaluable test bed for our technology, it is now a showpiece, with interested customers coming from as far as Eritrea and Mali to view the equipment in action," he said.