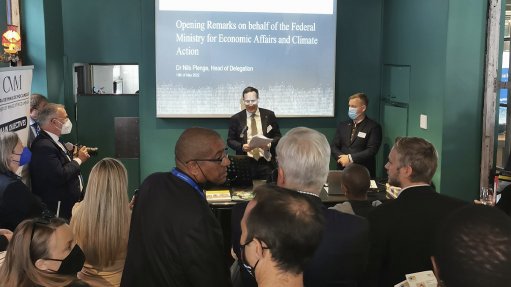 FIRST-TIMERS Participation of ILV-Fernerkundung GmbH at the German Day, with a representative of the German government Dr. Nils Plenge
Berlin-based remote sensing technology specialist ILV participated in the Investing in African Mining Indaba for the first time this year, owing to the company's involvement in different African and Middle East mining projects.
Projects in the region include contracts awarded in Algeria, the United Arab Emirates, Kuwait, Sierra Leone, Senegal, Ghana, Kenya and Nigeria, with new projects in Angola and Saudi Arabia under way.
Indaba attendees were able to meet members of ILV and its partners, such as consulting group MIBRAG CI group of companies, at the company's booth in the German Pavilion.
"We wanted to reach a larger African market and present ourselves in person. In addition to establishing international contacts, the South African market is also interesting for ILV and offers great potential for exploration topics, from space to exploratory drilling for the entire mining sector," says ILV project manager Christian Hochheimer.
He adds that the Indaba allowed the company to strengthen relationships with existing clients and establish relationships with new clients.
ILV focused on presenting its services, which include consulting and the implementation of mine planning and monitoring systems.
The company also offers services such as exploration, geology, geotechnics and hydrogeology, as well as the associated necessary provision of geodata as the basis for a variety of mining-specific topics.
These topics include the research and development of new, innovative remote-sensing technologies, aerial photo analyses, topographic aerial maps and digital terrain models, as well as hydrological surveying for mining, including for the offshore oil and gas industry.
ILV showcased its expertise in pit dewatering and related technologies, including aerial surveys using specialised aircraft or drones; ground survey instruments such as tachymetry, photogrammetry and laser scanning; and water flow surveys, also known as bathymetry.
It
presented the work of its South African geophysics partners, particularly in the field of aerogeophysics.
Additionally, ILV partnered with Germany-based consulting companies MIBRAG CI, LEAG and WISMUT GmbH.
"We gained invaluable insights regarding the African mining sector at the Indaba. The in-person contacts we established cannot be overstated".
Remote-Sensing Technology
Hochheimer says remote-sensing technology is important in all phases of mining.
During the initial exploration stages, aerogeophysical methods can determine if there are resource-bearing soil or rock layers. Flying over the observation areas using an airplane for larger areas and a drone for smaller areas allows for more precise information to be produced, enabling detailed planning.
Remote sensing for mining can also include digital terrain, or three-dimensional (3D), models, whereby openpit mining operations can be monitored at short, regular intervals using aerial imaging data that can produce data such as 3D mapping.
Additionally, bathymetry can provide detailed data, particularly in hydrogeology.
Hochheimer adds that there is a particular interest in geodata and mining consulting in the sector, as geodata assists in planning and supports openpit management and water reclamation.
Owing to the company's having successfully achieved its aims, ILV and its partners will participate at next year's Mining Indaba.
"We are working intensively on the continuation of our projects in Africa, and we would be pleased to consider a further business expansion in the region," concludes Hochheimer.