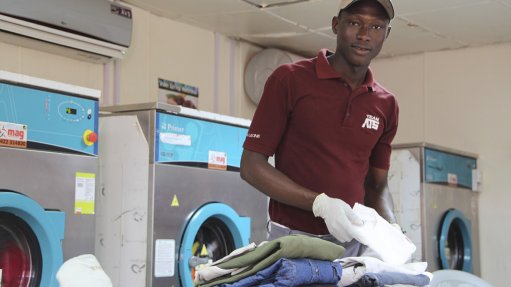 SITE FACILITIES SUPPLIED ATS run labour-intensive facilities and management operations encompassing hygiene, catering and cleaning
The biggest potential in the facilities services industry currently lies across Africa. This is a result of the remote nature of many of the mining camps that often do not have access to towns or facilities, states Tsebo Solutions subsidiary Allterrain Services (ATS) CEO Sanjay Narain.
As an Africa-born and -focused company, ATS says it understands the challenges and intricacies of operating in remote mining environments. "Similar to the mining sector, we run labour-intensive facilities management operations encompassing hygiene, catering and cleaning, all which require skilled staff," he says.
Narain indicates that countries such as the Democratic Republic of Congo (DRC) and Liberia are widely held to be the most difficult in which to operate, purely owing to the vast distances between projects and supply bases and a lack of infrastructure. ATS currently operates five major projects in the DRC, where, for instance, "during the rainy season it can take up to 16 days to get a supply truck out to one of our sites"– a situation, he says, which is often compounded by the threat of being hijacked by armed bandits while travelling at night.
Narain adds that the DRC also has a limited supply of goods in remote areas, therefore, ATS needs to source goods from surrounding areas and neighbouring countries as a last resort. "The more mature the country's economy, the better the infrastructure and the easier it is to operate," he notes, highlighting Ghana and Zambia as cases in point. In these and similar areas, extensive use is made of the local supply chains in-country, with an emphasis on community involvement to deliver First World standards. Examples include existing operations in Sierra Leone, Mali and new projects in Senegal.
In Central Africa, the company has provided its remote site services, including facilities management and catering, for gold mining company Barrick Gold's Lumwana copper mine, in Zambia. Additionally, it has supplied its mine site accommodation services to gold mining business Randgold Resources and Canadian gold company Banro, in the DRC.
Operating across the continent, mine site communities are often without electricity or running water and, in remote mining locations, there is nowhere to travel to break the repetitive nature of daily mine site living. Therefore, one of ATS's main priorities is setting up a "home away from home".
ATS has long-serving senior management who have operated in multiple countries and, therefore, have extensive experience in dealing with such challenges. In doing so, the company provides various functions and activities for local and expatriate mineworkers, promoting healthy living and, ultimately, allowing the client to focus on its core business.
This includes weekly and monthly activities such as weekly themed dinners, set menus for special events, pub nights with darts and pool competitions, and tennis and volleyball competitions.
ATS also has community development initiatives in place, which are aimed at recruiting 80% of its employees from the local catchment areas when working on a project. Each of its projects incorporates annual community development initiatives and set targets that need to be achieved, which include, but are not limited to, consumable and nonconsumable supplies and hospitality training. ATS also focuses on developing fresh produce farms in communities, as well as pork farms, and has established its own butchery, which is run by community members, with new interns trained quarterly.
For almost 20 years, ATS has enabled ambitious companies to work in the most remote locations in Africa. "The company has seen and overcome every obstacle Africa can [present]. Our service requirements are dictated by our clients and, over the past two decades, we have seen significant changes in what clients want," asserts Narain.
Owing to the current skills shortfall in Africa, employers are looking to creating enticing work environments, which can be difficult when operating in some of the most rural and remote locations. Therefore, ATS works closely with mining clients to foster an environment that keeps employees happy and healthy.
ATS highlights that it is often one of the first suppliers on site and the last to leave to ensure adequate and compliant cooking standards and comfortable accommodation. It notes that is has seen an increased trend towards healthy eating and nutritional menus. This has enabled it to provide an integrated solution, with services provided by the local community, such as the procurement of supplies.
From a small site of ten people to a large mine of more than 1 500 people, ATS says it can provide nourishing, healthy and exciting meals, brandable and lively dining environments, and functions and festive activities that, together, create an overall environment staff are happy to call their 'temporary' home.