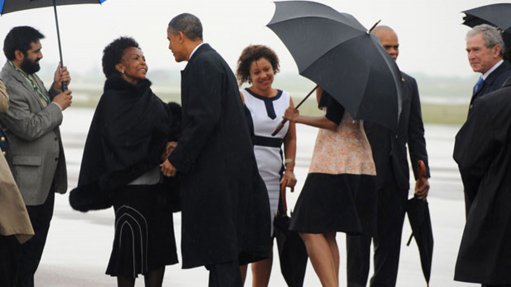 Barack Obama arrives for Nelson Mandela's memorial
Photo by: Government ZA
Former President Nelson Mandela was hailed on Tuesday as a champion of reconciliation as world leaders, international guests and ordinary South Africans gathered for his Memorial Service at FNB stadium.
Three years ago, South Africans packed the same stadium in celebrating the first ever Soccer World Cup to be played on African soil in 2010. On that cold winter night, a smiling Mandela made his last public appearance at the closing ceremony.
But on Tuesday, South Africans gathered there to convey their goodbyes to the man who will be remembered for his role in defeating an unjust system and uniting the country's people.
Dignatries have described him as a hero, a revered statesman and a devoted family man whose love kept his family together despite being incarcerated for nearly three decades.
Obama
US President Barack Obama thanked South Africa for sharing former President Nelson Mandela with the world.
"It is an honour to be with you today, to celebrate a life like no other.
"To the people of South Africa, people of all walks of life and every race – the world thanks you for sharing Nelson Mandela with us!
"His struggle was your struggle. His triumph was your triumph," Obama told the thousands of mourners who had braved the rain to pay their last respects to the elder statesman.
Obama said Mandela was the last great liberator of the 20th century. He was committed to democracy and rule of law, and received the adoration he deserved.
He said Madiba could admit to imperfection. "We loved him so....He was a man of flesh and blood, a son and a husband...that's why we learnt so much from him."
Obama quoted the word Ubuntu, to loud cheers from the crowds. Obama said Madiba not only embodied Ubuntu, but taught millions to find that within themselves.
He said like South Africa, the US had overcome years of segregation. "Like her, it took the sacrifices of countless people to see the dawn of a new day. Michelle and I are beneficiaries of that struggle, but in America and in South Africa and in countries around the world … our work is not yet done."
He said around the world there were still children suffering from hunger and disease; there were run down schools and young people without prospects for the future.
"We will never see the likes of Nelson Mandela again. But let me say to the young people of Africa and the young people around the world, you too can make his life worth your own."
He said 30 years ago, while he was still a student he learnt of Madiba and the struggles taking place in South Africa. He said it stirred something in him. "It woke me up to my responsibility to others and myself and it put me on a journey to where I am today."
He said he would always fall short of Madiba's example. There are many comparisons that have been made between Obama and Madiba – including that each served as their nation's first black President and both were awarded a Nobel Peace Prize.
"We will miss him deeply. May God bess the memory of Mandela and bless the people of South Africa," said Obama, to the applause of the many people gathered.
Rousseff
For her part, Brazilian President Dilma Rousseff said Madiba was a source of inspiration for similar struggles around the world.
She said Madiba showed "enlightenment" and she commended his "moral and ethical superiority."
Mandela was a "great leader who belonged to the Pantheon of humankind.
"Long Live (Viva!) Mandela forever!" she said to loud cheer from the crowd.
Mlangeni
Earlier, Mandela's long-time comrade and anti-apartheid activist Andrew Mlangeni sought to remind people of Mandela's contribution in achieving a free South Africa.
"He was an unavoidable force against injustice. Madiba's exemplary leadership was based on a collective thinking. Millions of South Africans are now trying to emulate the greatest of this man in what they are doing," said Mlangeni.
Mlangeni spent 26 years on Robben Island alongside Mandela and other anti-apartheid activists such as Walter Sisulu, Raymond Mhlaba and Ahmed Kathrada.
For decades, government authorities kept them behind high prison walls and security fences and away from the suffering majority who yearned for political freedom in the country of their birth.
As he will be laid to rest on Sunday, leaders praised Mandela's contribution in forging the new South Africa and avoided a potential civil war after the assassination of Communist Party leader Chris Hani during the height of the negotiations with the apartheid state.
Mandela was also instrumental in brokering peace between the Inkatha Freedom Party and ANC supporters in KwaZulu-Natal as what escalated into tribal clashes in that province threatened to derail progress towards a new and democratic state.