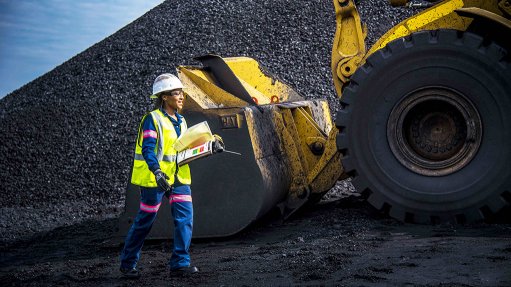 Reinvestment is needed to "plant the seeds" and create a better future for South Africa, says diversified miner Exxaro Resources projects and technology executive head Johan Meyer.
This is especially critical considering that Covid-19 has made it more challenging to secure investments, but also when taking South Africa's energy and electricity supply challenges into account.
"We need to secure available energy, political will and regulatory support. We also need to have the right contractors and construction industry to build from these seeds so that we may eventually have a massive industry growing and providing much-needed jobs in the country," he elaborates.
He stresses that it is "fundamental" for all companies to "dig deep and reinvest in South Africa". He suggests that this could be achieved by paying out less dividends to shareholders and instead using that money to grow the company.
"We will all benefit because joblessness is going up and it's not good for the country or communities that companies operate in," he comments, noting that this reinvestment agenda applies to all companies – public, private, listed and unlisted.
With reinvestment forming the foundation of Exxaro's growth intentions, Meyer tells Engineering News & Mining Weekly that Exxaro will be refocusing on the energy and renewable energy spaces, while considering the minerals that can help build South Africa.
Keeping this in mind, he refers to the miner's R17.5-billion investment commitment as part of President Cyril Ramaphosa's investment drive for South Africa.
The original investment amount was R20-billion, but this had to be recalibrated following the cancellation of aspirations to build a power plant in Lephalale.
Exxaro has spent about R13-billion (about 75%) of the committed value of investments.
Of this, R7.4-billion is related to projects that have been completed – such as the Doorstfontein West project, the Leeuwpan project, the rapid load-out station, the Mafube expansion projects and the Belfast project.
These projects have been fully completed and have been handed over for operations.
Exxaro's timeline still remains in line with the original plan and cost flow provisions for the projects, with only the two biggest projects – the GG6 expansion and the Matla expansion projects – still to be completed, both of which are associated with State-owned power utility Eskom's journey to increase the Matla power station's output, with coal to be sourced from Exxaro.
These two projects will be concluded in mid-2022, as per the plan.
GG6, however, is the only project that is over budget, as it has been impacted by two major events, namely the Group Five business rescue and the Covid-19 pandemic, which delayed the project by 12 months.
These two major challenges have delayed the project by about a year, with the impact on cost being about 10% of the original R4.8-billion estimate.
Meyer says the company now expects the overall required funding to reach R5.3-billion.
Matla's expansion will only be concluded at the end of 2023, as Exxaro is still waiting for about R1.5-billion to be released from Eskom.
Matla is estimated to be a R3.5-billion project.
Upon the release of funds from Eskom, the project's value will increase to R4.5-billion, and it will open up expansion opportunities for the mine to increase output to ten-million tonnes.
Exxaro's R17-billion was not only committed because of the South African government, Meyer says, who notes that it was also part of Exxaro's strategic goal to implement projects at the right time to unlock value for all the stakeholders.
"It's what's required in the country – we need investment by all companies to grow the companies and revenue streams generated from these projects such that taxes are payable, such that we can support the overarching business model for South Africa, but also for Exxaro, specifically, [it's what's required] from a shareholding point of view," he reiterates.
At the peak of the investment, Exxaro had about 7 000 contractors, who were mainly sourced from the local communities, to help deliver the projects.