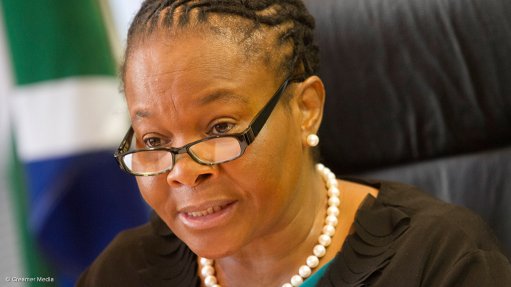 Photo by: Duane Daws
CAPE TOWN (miningweekly.com) – Regulatory alignment and legislative streamlining would be completed during the upcoming Parliamentary term which opens next month, Minerals Minister Susan Shabangu said on Wednesday.
Shabangu, who was speaking at the IHS McCloskey South African Coal Exports Conference 2014, said at question time in response to Mining Weekly Online that a 300-day limit would be put on mining applications in which environmental, rights and water considerations would be dealt with simultaneously.
"As we speak today, the portfolio committees of mineral resources and water affairs are finalising the legislation and its environmental and water linkages clause by clause," she said.
Immediately after State of the Nation address, it will be taken up in Parliament for the National Assembly to endorse and conclude the Mineral and Petroleum Resources Development Amendment Act.
"I'm positive that before the rise of Parliament this year, this Act will be done and the mining industry can be assured that South Africa is a place to do business.
"We are talking about full compliance happening within 300 days. What we are saying is that, within the new law, when you apply for a prospecting licence or a mining licence, simultaneously you do your environmental licence," the Minister told Mining Weekly Online.
The Department of Mineral Resources would be the competent authority granting the environmental impact assessment.
The application for the water licence would be submitted simultaneously.
The Minister cast strong doubt on export quotas being imposed on coal and spoke of a win-win approach to the declaration of coal as a strategic mineral.
The government would contribute with infrastructure towards export industry but would set out to ensure that there were no domestic energy shortages.
The infrastructure, including rail and water infrastructure, needed to work in the interests of both investors and the country.
"Those are the type of win-win situations that we're talking about, " Shabangu added.
Domestic coal use was central to South Africa's energy security and coal exports were extremely important to the South African economy and government intervention would maintain the required balance.
"Those issues will be clearly spelled out in the regulations," the Minister said.
At the same time, South Africa would not be relying solely on coal for its energy and would have a mix of energy sources and potentials.
On the horizon was also shale gas, which could also become a source of energy in the future as well as offshore gas.
Final regulations for hydraulic fracturing had been developed and existing licence holders would not have to reapply for shale-gas rights.
The Minister said the government had been dealing with legislative streamlining and regulatory alignment for the past four years, involving both local and international consultations.
She was glad that foreign investors were preparing to make mining investments in the coming week and the issue of carbon tax was before a commission headed by judge Dennis Davis, who would address concerns.
"Taxes will have to be informed by conditions. We might not need taxes because the system itself may help government to generate income," she said.