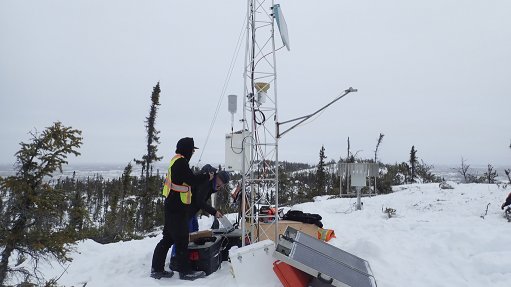 GOVERNANCE GOALS Governments in Canada, particularly those provinces responsible for resource development, need to be more aligned with national objectives, priorities and policies
While Canada's mineral potential is well recognised, it has several challenges that need to be addressed to capitalise on the resource development opportunity, says North American mine developer Fortune Minerals president and CEO Robin Goad.
He adds that governments in Canada, particularly those provinces responsible for resource development, need to be more aligned with national objectives, priorities and policies.
"Alignment is also an issue between government departments that are commonly at cross purposes between demands for a strong minerals industry and the social and environmental impacts that come with development, which need to be appropriately balanced for a successful and sustainable industry.
"It currently takes far too long to develop mineral projects in Canada, owing to complex and cumbersome regulatory systems that commonly have overlapping jurisdiction. Mining is a globally competitive industry and approvals need to be streamlined to enable Canada's resource industry to be competitive," he explains.
Additionally, the issue of Indigenous land claims and jurisdiction also needs to be clarified and addressed to enable developers to understand the processes they need to follow to acquire mineral tenements, says Goad, adding that developers need a clear understanding of who has jurisdiction over resource development on traditional Indigenous lands; as well as how much compensation and accommodation needs to be paid, and to who, prior to commencing exploration of a property.
"The consultation obligation is otherwise clear."
Fortune's Focus
Fortune Minerals' NICO cobalt/gold/bismuth/ copper deposit is located in Canada's Northwest Territories, about 160 km north-west of the City of Yellowknife and 50 km north of Tlicho Indigenous community of Whati.
In addition to the planned openpit and underground mine, the project will have a mill and flotation concentrator in the North and a related hydrometallurgical refinery that will be constructed in southern Canada.
The Northwest Territories has immense geological potential, however, Goad highlights that it is also encumbered by an acute infrastructure deficit that can more than double the capital and operating costs, compared with similar deposits in southern Canada.
This, he says, is because projects in Canada's North typically have long supply lines, must construct their own remote camps to accommodate workers, and must build airstrips, roads and warehousing and tankage for projects accessed from seasonal ice roads.
However, the NICO project is not encumbered by many of the challenges because it is located near existing infrastructure, mitigating many of these higher costs.
In addition, the Canadian, Northwest Territories, and Tlicho Indigenous governments are working together to construct an all-season highway to the community of Whati.
Another challenge in the Northwest Territories is conflicting land use that reduces the available land that is otherwise close to existing infrastructure, he notes. Much of the land in the Northwest Territories is tied up in complex Indigenous land claim processes that effectively precludes acquisition of mineral tenements. Additionally a significant amount of the accessible parts of the Territory are also tied up in parks and protected areas that preclude development.
Further, a challenge that is specific to Canada's critical minerals industry, is that there are few smelters and refineries that can process complex concentrates, while optimising metallurgical recoveries needed to support robust economics.
Traditional smelters and refineries are not configured to deal with the by-products contained in critical mineral concentrates and charge excessive penalties for metals that might otherwise contribute revenues.
"Consequently, projects must engineer, permit, finance, develop and operate their own refineries adding costs and technical risks to a development," he highlights.
The additional cost of vertical integration negatively impacts project economics making critical mineral projects difficult to finance using traditional project finance structures and debt providers. Fortune Minerals has advocated that there is a role for government in enabling more processing capacity in Canada and helping support projects with downstream process plants.