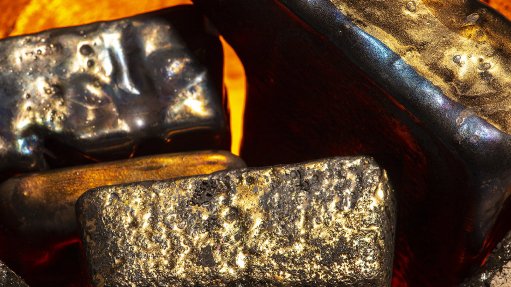 ADDRESSING AFRICA Rand Refinery remains proudly African and committed to developing the gold industry across the continent
One of the world's largest integrated single-site precious metals refining and smelting complexes, Rand Refinery, can refine more than 300 t/y of gold, but the South African gold mining industry is producing less than half this volume.
According to financial markets data provider Refinitiv's GFMS Gold Survey 2019, the country is producing only 124 t/y. Therefore, strategically, the refinery is seeking to source additional material from across Africa to supplement local gold volume shortages, says Rand Refinery CEO Praveen Baijnath.
He says the refinery offers one of the best opportunities for South Africa and the rest of Africa to enhance the value return of the continent's finite reserves.
African countries of interest are those which have rapidly increased their gold production and have development projects under way, with potential opportunities in East Africa and West Africa, notes Baijnath.
In West Africa, Ghana has become Africa's top gold producer. According to data from the Ghana Chamber of Mines, the country's gold output climbed 12% in 2018, with the country benefiting from lower-cost mines than South Africa, more attractive mining policies and the development of new projects.
In response to local gold market conditions and predicting market realities, Rand Refinery has made strides in making the refinery future-fit by optimising processes and reducing cost to deliver maximum value to its various stakeholders.
"Rand Refinery's capabilities in sampling, assaying, smelting and refining are among the best in the world, as it is one of five global London Bullion Market Association (LBMA) referees. This competence should be maintained and expanded to serve the continent in refining and smelting," Baijnath tells Mining Weekly.
Having noted the rapid establishment of many smaller gold refineries across Africa, he supports the establishment of further gold refineries provided they add value to the African gold industry.
However, he warns that some of these new refineries could be destroying value and harming the industry as a whole by not complying with responsible sourcing activities and by sourcing smuggled, illicit or conflict gold, thereby indirectly funding conflict, as well as ensuring that African governments do not receive their rightful royalties.
Rand Refinery views its sourcing processes as its strategic differentiator. With value-added products from Rand Refinery used globally in jewellery fabrication and industrial applications, the consumers of these products are ensured that this gold is responsibly sourced.
"Therefore, it is very concerning that some African refiners export nonoptimally refined gold product and/or material from Africa, with little interest from where the material is sourced or how it was extracted.
LBMA
"Besides complying with LBMA Responsible Gold and Silver Guidance, Rand Refinery sets its own stringent requirements. Country and supply chain risks are explored and considered . . . we believe in engaging with all parties in the supply chain – from the mine to our vault and refinery," notes Baijnath.
Issues with newly established refineries in Africa comprise questionable metrology (weighing) and assaying that does not meet suitable standards, thereby resulting in the loss of value for the depositor. Further, some refiners add little value and have simply become melt houses, thereby not delivering on their mandate to beneficiate gold in-country.
Given the volume of the material and the demand to obtain the highest price for the resulting product in the shortest time possible, Baijnath says the large- and medium-scale gold mining industry in Africa is typically served by LBMA refiners, with Rand Refinery being the only LBMA-approved refiner on the continent.
Therefore, all other suitable material not refined by the refinery is processed outside the continent, with several LBMA refiners based in Europe and the East.
"Meeting LBMA specifications in terms of purity, fabrication and assay can be challenging. Some African refineries whose sourcing practices are LBMA-compliant and meet our stringent criteria, trade with Rand Refinery, thereby ensuring the maximum beneficiation on the continent," Baijnath tells Mining Weekly.
LBMA requires responsible sourcing and supporting systems to be in place to prevent the processing of conflict gold. Baijnath says many refiners may find it difficult to fully comply with the LBMA's Responsible Gold and Silver Guidance.
Added Value
Price, service and speed are critical in the highly competitive market, with Rand Refinery claiming to have one of the fastest turnaround times in the industry – assaying and subsequent payment to depositors.
Rand Refinery believes it will attract increased volumes from the gold mining operations in the rest of Africa, through its "service, partnerships and enduring trust".
Further value is added through its secure vault for shipments as well as security and logistics experts, which enable international depositors to enhance their valuable cargo transport spend through consolidated shipments, the most effective routing and minimal storage time.
"Rand Refinery shares security best practices with mines in terms of gold screening and security techniques, given the investment in such technology at our site. We also work with international depositors and government-owned assaying laboratories to improve their practices, as well as offer doré/cathode sludge refining services and treat mine by-products such as carbons, borax slags, crucibles and launders," says Baijnath.
Subsequently, Rand Refinery helps mines realise value not only from their primary product but also their waste.
It also differentiates itself by leveraging its in-house logistics and transport experts, as well as its network of partners, to deliver effective transport solutions. Many of its African in-bound supply chain collaborations have resulted in value creation across the continent, with the refinery setting up valuable cargo transport routes through African hubs using African airlines, notes Baijnath.
Being on the cusp of a 100-year history in refining African mine doré, Rand Refinery is also adept at dealing with the nuances of this material, which include low-silver, high-copper and iron content, as well as other deleterious elements, which can amount to significant charges at some refiners.
Rand Refinery remains proudly African and committed to developing the gold industry across the continent, concludes Baijnath.