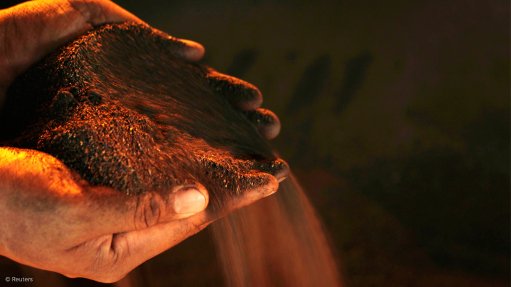 Nickel ore
Photo by: Reuters
VANCOUVER (miningweekly.com) – Refined nickel prices will remain under pressure in the coming weeks as the impending moderation of Indonesia's mineral ore export ban and consequent resumption of nickel exports will increase global nickel supply, new analysis by Fitch-affiliated BMI Research has shown.
According to a report Thursday, BMI expects the current selloff to ease by the second quarter, making way for modest gradual increases for the rest of the year.
Analysts expect that refined nickel prices will remain under pressure in the coming weeks, as speculative selling heightens on the back of Indonesia moderating its mineral ore export policy. The Indonesian government is amid drafting a new law which will likely see a resumption in nickel ore exports from the country after a three-year hiatus.
Prior to the country's mineral ore export ban was implemented in early 2014, Indonesia was the world's second largest supplier of nickel ore at 16 .7% of global production in 2013.
As a result, nickel prices could break below support currently coming at $10 000/t and head lower before increasing modestly later on in 2017. BMI maintained its 2017 nickel price forecast of $10 500/t on average as prices will be supported by China's continued and intensified fiscal support for the construction sector this year. This is because nickel is used in the production of stainless steel, which is used widely in the transport and construction sector, BMI stated.