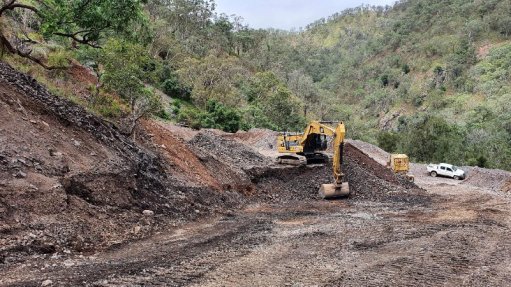 Mining activities at Bakers Creek stockpile
Base and precious metals company Red River has poured first gold at the Hillgrove mine, in New South Wales.
The ASX-list company reports that plant production is ramping up, while gold recovery to flotation gold concentrate and Knelson gravity gold concentrate activities are performing in line with expectations.
To date, Red River has processed about 18 000 t of ore from the Bakers Creek stockpile. After initial low grade commissioning feed, stockpile grades increased, with an estimated 800 oz to 1 000 oz of gold currently in circuit.
MD Mel Palancian said on Monday that the start of gold production at Hillgrove represented a material step in the company's strategy to build a multi-asset operating business focused on base and precious metals.
Red River completed the Hillgrove gold mine acquisition in August 19, for A$4-million settled through shares.
The previous owner had placed Hillgrove in care and maintenance in 2015/16 owing to low commodity prices at the time.
The company decided that the best way to bring the project back into production was through treating material from the stockpile before resuming underground operations.
"I look forward to updating the market as we increase gold production from the Bakers Creek stockpile in Stage 1 before we move to the full restart of underground production in Stage 2, producing gold, gold concentrate and gold-antimony concentrate," noted Palancian.
Red River plans to start with underground mining before the end of the year, targeting production of between 30 000 oz and 50 000 oz of gold equivalent production.