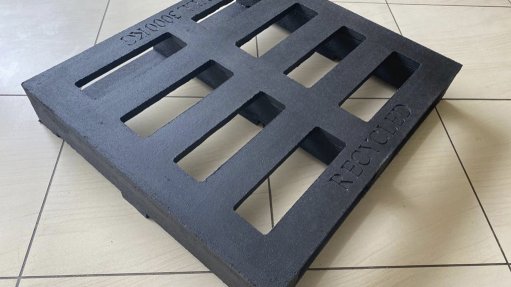 RECYCLED TYRE PALLET Xtyre's products are durable, stornger alternatives to plastic or wood products
Recycled rubber manufacturer Xtyre Global provides patented products made from recycled tyres that can replace wood and plastic products, particularly in the industrial environment.
Xtyre Global notes that its rubber pallets and safety products are ideal for the mining industry's harsh conditions and also provide an opportunity for collaboration in reducing tyre waste.
The Xtyre pallets are ideal for housing spare motors and other heavy spare parts. Whereas wooden pallets can collapse if they are supporting too much weight, the Xtyre pallets can support the weight of heavy spares without collapsing, including large motors, gearboxes and hydraulic equipment, explains Xtyre Global director Oscar Filén.
Xtyre's pallets are also more shock-absorbent and less vulnerable to adverse weather.
The pallet range also includes trackable smart pallets, with tracking devices that provide businesses with live Global Positioning System tracking of individual pallets as they are being transported.
The company can also customise pallets to suit customer needs, for example, inserting a chip
into the pallet to determine whether a product was removed. The chip uses radio-frequency identification (RFID) encoded in the item's RFID tag or smart label to track the number of items placed on the pallet at all times. If an item is taken off the pallet, it updates the company or respective manager.
The technology can be used in transporting products as well as for auditing purposes throughout the supply chain.
Further, Xtyre manufactures safety products from recycled rubber, such as safety barriers, stop blocks, railway ties for underground operations and cable covers.
The company has also set up licensed manufacturing sites in South Africa and Kuwait, to which tyres can be taken for recycling for the manufacture of Xtyre products.
Waste tyres, particularly in an industrial context, are challenging to get rid of because of their flexibility, size and shape.
As a result, such tyres are often stored in piles above ground, which can become a breeding ground for mosquitoes, as well as a health and safety hazard. The environmental degradation caused by these stored tyres often means that the land on which they are stored cannot be used for other economic activities.
"Mines' tyres can be part of the circular economy, with new products made from recycled tyres going back into the market. We have done a life-cycle assessment analysis, which has encouraged us to establish carbon credit exchanges that will verify our credits. We will subsequently sell carbon credits, which might, ultimately, be worth as much as the actual recycled product."
The company intends to establish recycling hub sites in key mining areas. Xtyre, in turn, can acquire these tyres for recycling and upcycling.
The company
is in the final stages of a project launch regarding an end-to-end responsible approach to tyre waste, concludes Filén.