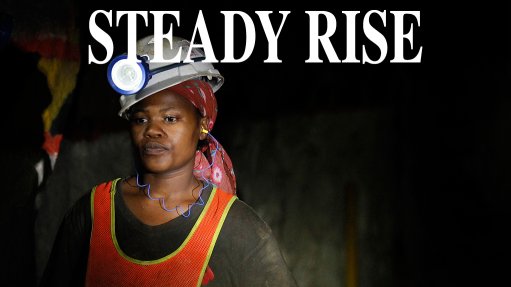 The mining industry remains male-dominated and much can still be done to address issues that specifically affect women.
However, policies aimed at attracting, supporting and retaining women have led to a gradual, but steady, increase in the number of women in core roles, as well as in the industry in general, notes Kumba Iron Ore Kolomela plant manager Mandlakazi Semane.
Previously, South African women were prevented from being employed in underground mining activities and were underrepresented in engineering and technical disciplines, subsequently facing several obstacles when pursuing a career in mining. This is no longer the case.
Semane points to her sixteen-year journey at Kumba as an example, stressing that "where we are today is not where we were". Much has been done in terms of getting women accepted in a technical environment and, although there will always be challenges, there is also significant support, she adds.
Semane's current responsibilities include managing the process operations, where value chain integration is an imperative. The role links mining activities with downstream logistics and marketing activities, and engaging with and overseeing the safety of many Kolomela personnel.
Kumba supported Semane's development by enabling her to pursue bridging and postgraduate courses in metallurgy, which facilitated her growth from technician through to jig production manager, plant technical services manager and, now, plant manager.
The advent of new mining technology will also result in even more women moving into the sector. "With new technologies, women can operate automated equipment from an air-conditioned control room, eliminating most risks associated with mining."
Semane notes that the ongoing mining technology evolution is not only more efficient and productive but also protects lives, and attracts and retains women employees.
She further suggests that the industry's general lack of women representation at senior management level is due to availability, rather than misogyny.
"Placing women in core positions is always going to be related to the availability of those core positions . . . but, more and more, we've seen women elevated into these positions."
Programmes and Policies
Kumba communications head Sinah Phochana adds: "At Kumba, we are trying to create opportunities for women, and Kolomela, in particular, is doing very well in terms of the number of women in core roles."
She cites Kumba's Women in Mining programme, which addresses woman- specific challenges on a formal platform.
In striving to create an environment that is as favourable as possible, Kumba has, as part of its initiatives, striven to ensure that there are good schooling opportunities near its operations.
"Kumba has [ensured] that there's a Curro [school] in Kathu . . . because you can't expect women to relocate to a remote area and not provide for their basic priorities . . . they will definitely leave," explains Phochana.
Semane says that Kumba actively tries to recruit from the local community by providing career guidance campaigns at schools in the Northern Cape, in addition to actively recruiting from universities, through its Young Talent department.
Phochana cites its Professionals in Training programme, which offers experiential work for tertiary students, who are moved around the business units of Anglo American.
Further, explosives and chemicals company AEL also actively recruits women engineers for its talent pipeline, says AEL Southern Africa underground divisional director Meagan van den Berg.
She notes that AEL is acutely aware of the importance of improving women representation at management level. Currently, 21% of AEL's management are women, and the company is committed to the recruitment, development and retention of women employees at AEL.
Thus, 28% of AEL's women employees are attending management developmental programmes and 23% of these in its talent pipeline are women.
Legal Hindrances
Commentators suggest that the challenges facing women entering the industry today, generally, do not pertain to men perceiving women as incompetent. Rather, the issues pertain to changing societal expectations, particularly with regard to motherhood and human dignity.
Van den Berg states that, as in most industrial professions, "life stages and motherhood play a large role in the decision to join and stay within the industry".
She notes that the remote locations, long working hours and the immense responsibility, specifically in terms of safety, compound the physical, mental and emotional strain of maintaining a household. "[However], it can be done with a supportive spouse and a forward-thinking company that values a woman's dual roles."
Often, the strain is not caused by the employer or the work environment, but by legislation and implementation that have not evolved in line with changing norms.
Cliffe Dekker Hofmeyr employment practice director Fiona Leppan previously told Mining Weekly that she believes the Unemployment Insurance Act (UIA) should be amended to protect pregnant employees working in risk environments, who are afforded the same Unemployment Insurance Fund benefits as women in office environments – to their detriment.
Citing the Manyetsa v New Kleinfontein Gold Mine case as an example, she noted that Judge Edwin Tlhotlhalemaje was concerned that extended unpaid maternity leave (subsequent to the four months paid leave) was an economic prejudice to women employees, which could act as a barrier to such employees gaining entry into, or remaining in, employment in risk industries such as mining.
Leppan added that, if the UIA were to be amended, it should address situations where pregnant women are prejudiced because of the hazardous work environment.
Meanwhile, Webber Wentzel employment, health and safety practice partner Dhevarsha Ramjettan notes that sexual harassment cases are complex, adding that even the Commission for Conciliation, Mediation and Arbitration (CCMA) and the Labour Courts have erred in interpreting the 1998 and 2005 Codes of Good Practice on the Handling of Sexual Harassment in the Workplace.
Webber Wentzel employment, health and safety partner Kirsten Eiser explains that the codes need to be read together. While the 1998 code provides a definition of what constitutes sexual harassment, the 2005 code provides a means of testing sexual harassment claims in terms of "whether the harassment occurred on the grounds of sex, gender or sexual orientation; whether the sexual conduct was unwelcome; the nature and extent of the sexual conduct; and the impact on the victim".
She cites a 2016 case, in which an installation manager was dismissed for unprofessional conduct and sexually harassing a younger woman from an unaffiliated contractor that was part of a consortium implementing a project in Botswana.
After the incident, the victim reported the perpetrator to his employer and he was charged and dismissed. The CCMA upheld his dismissal, but, on review, the Labour Court found that dismissal was too harsh a sanction and corrective discipline was warranted, ruling that the perpetrator be reinstated and issued with a final written warning. The basis was that it was one-off sexual attention between people who were not employed by the same company, with no potential for continuing harm, as the victim had moved to Australia.
The Labour Appeal Court overturned the Labour Court's decision, stating that the latter had failed to take into account that the attention was "unwanted", and that there was a disparity in age and gender, which inherently favoured the perpetrator and created a power imbalance.
In another case, an employee was dismissed by a platinum mine for misconduct related to sexual harassment that had occurred over several years. The CCMA found the dismissal unfair, as the victim had failed to make it immediately clear that the remarks were unwanted. The Labour Court, on review, described the commissioner as "clearly misogynistic, patriarchal and insensitive", for failing to consider the barriers to reporting harassment, such as fear of reprisal.
Both cases highlight the evolving interpretations of what constitutes sexual misconduct and harm to human dignity. Thus, mines would do well to ensure that their policies are continually reviewed and updated to reflect case law, suggests Ramjettan.
Another instance where companies could improve is to include clauses on racism and sexual harassment in employment contracts, says labour law advocate Feroze Boda. "You already have contracts that state that certain acts of misconduct are fireable offences – why shouldn't sexual harassment and racism be included?"