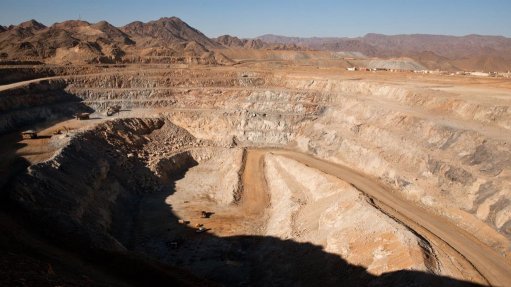 Sukari
JOHANNESBURG (miningweekly.com) – Canadian gold producer Centamin has lifted second-quarter gold output from its Sukari gold mine, in Egypt, by 9% on the first three months of the year, producing 81 281 oz for the quarter ended June 30, 2014.
While an improvement on the prior quarter, this represented a 13% drop on the corresponding three months of the previous year.
Record quarterly throughput at the process plant was 1.957-million tons, a 32% increase on the first quarter, reflecting the start of ore treatment through the new Stage 4 plant circuit.
Stage 4 commissioning activities had proceeded "well" and continued to support a ramp-up to the expanded ten-million-tonne-a-year nameplate capacity during the second half of the year.
The underground operation delivered a record 230 000 t of ore, up 12% on the first quarter and in line with planned mining rates.
While openpit total material movement increased 1% to 9.861-million tons on the previous quarter, openpit ore production decreased by 23% to 1.795-million tons on the first quarter of 2014 .
The run-of-mine ore stockpile balance decreased by 400 000 t to 1.141-million tons at the end of the period.
With underground average grades also set to improve, gold production levels were expected to progressively increase in the third and fourth quarters.
While grades realised from development ore were lower than the forecast yearly average, good progress had been made in accessing additional higher-grade stoping blocks and, hence, the average grade from the underground mine was expected to increase during the coming months.
"We, therefore, maintain our full-year forecast of 420 000 oz," the company noted.
Centamin added that discussions continued with government departments to increase the daily use of ammonium nitrate to increase openpit mining rates to the required level to feed the expanded plant.
"We believe government approval is in its final stages," it said.
Commenting on the results, chairperson Josef El-Raghy said, while underground development ore grades were below forecast, mining rates remained strong and the operation was on a "solid footing", having opened up key high-grade areas for stoping.
"Therefore, with both plant throughput and average grade set to materially increase during the remainder of the year, we look forward to delivering Sukari's long-term target of between 450 000 oz/y and 500 000 oz/y from 2015 onwards."