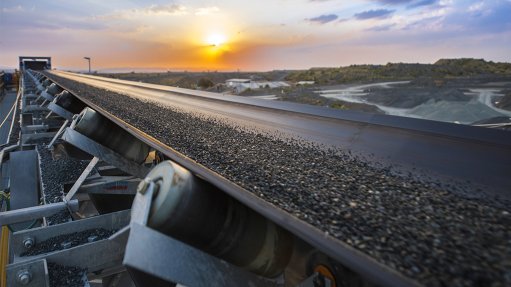 Petra Diamonds' Cullinan Mine.
Diamond miner Petra Diamonds produced 3.2-million carats at its operations in the financial year ended June 30.
The Cullinan mine's performance, which contributed production of more than 1.9-million carats, was offset by lower production at Finsch and Koffiefontein, while the Williamson mine, in Tanzania, remained on care and maintenance.
Revenue for the period was up by 38% to $406.9-million, with sales from exceptional diamonds having contributed $60.2-million during the year – the highest ever contribution to revenues from exceptional diamonds.
Post period end, the company sold the 39.34 ct exceptional Type IIb blue diamond recovered from the Cullinan mine in April for $40.2-million.
Consolidated net debt reduced by nearly two-thirds to $241.2-million at period end, down from $700.4-million at the half-year mark, following completion of the capital restructuring in March.
Petra also had unrestricted cash of $156.9-million at the end of the period, with an additional $7.7-million of undrawn banking facilities available.
The miner's diamond inventory value was $54.3-million at the end of the period.
OUTLOOK
Production guidance for the 2022 financial year has been set at between 3.3-million and 3.6-million carats, with the South African operations estimated to contribute between 3.1-million and 3.4-million carats.
Williamson, where plans are currently being refined to allow operations to restart during the first quarter of the 2022 financial year, is estimated to add between 220 000 ct and 270 000 ct for the year.
Discussions with the government of Tanzania to reach agreement on various issues at the Williamson mine are still ongoing, with a view to being concluded during the first quarter of the 2022 financial year.
Petra also reported that $10-million of value-added tax (VAT) refunds were received from the Tanzanian Revenue Authority in two separate payments during the fourth quarter of the 2021 financial year.
Post period end, in July, re-engineering projects were initiated at Finsch and Koffiefontein to comprehensively review and improve the mines' cost bases and enhance operating margins at current throughput levels.
Additionally, although the number of Covid cases have increased as a result of a third wave of infections in South Africa, Petra noted that there has been a limited impact on its South African operations.
The recent unrest and rioting in the country has also not impacted on its South African operations or supplies to the operations and will continue to be closely monitored, it stated.
CEO Richard Duffy said the company would be entering the new financial year "with a considerably strengthened balance sheet and a more supportive diamond market than we have seen for some time".
PROJECT 2022 UPDATE
The implementation of throughput ideas remains the largest contributor to improving operational cash flow, led by Cullinan's record recovery of upwards of 1.9-million carats in the 2021 financial year.
Owing to reduced throughput at Finsch, Koffiefontein and Williamson, expectations on the annualised contribution from throughput initiatives were reduced to about $50-million in the company's previous trading update.
Petra, however, confirmed that it remains confident that it will achieve the annualised contribution of $50-million, supported by measures taken to curtail the waste ingress at Finsch.
Initiatives undertaken to drive cost efficiencies are expected to contribute an annualised $20-million going into the 2022 financial year, remaining unchanged from previous guidance.
The Project 2022 Organisational Design Review was completed during the 2021 financial year and will result in updated role descriptions providing for clearer line of site and improved accountability.