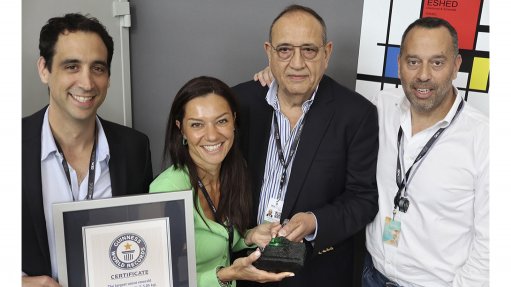 At Gem Geneva with Chipembele and the Guinness World Record certification, from the left are Liran Eshed (Eshed – Gemstar), Elena Basaglia (Gemfields), Avraham Eshed and Lior Eshed (Eshed – Gemstar).
An emerald recovered at Gemfields' Zambia-based Kagem mine – which broke the Guinness World Record for being the largest uncut emerald ever found, as verified on April 22 – was showcased during a special ceremony of gem and jewellery show Gem Geneva this month.
The special ceremony was held on May 5 to honour Eshed - Gemstar and its founder Avraham Eshed, and was followed by a champagne toast and presentation of the certificate of the Guinness World Records title.
Eshed - Gemstar acquired Chipembele at Gemfields' high-quality emerald auction in November 2021.
The gemstone was discovered in July 2021, while the record-breaking accolade was jointly unveiled by a delegation from Gemfields Group and gemstone manufacturer, trader and marketer Eshed – Gemstar on May 5.
Traditionally, only the rarest and most remarkable emeralds are given names, and as such, shortly after its discovery at the Kagem mine, the 7 525 ct single-crystal was christened Chipembele – meaning "Rhino" in Bemba – a Zambian dialect.
Kagem is the world's largest single-producing emerald mine, owned by Gemfields in partnership with the Zambian government. It has yielded a number of exceptional gemstones in recent times, but none more so than Chipembele, whose discovery left the geologist team who excavated it speechless.
Kagem donated a share of the proceeds from the sale of Chipembele at auction to the North Luangwa Conservation Programme in Zambia, to aid critical conservation of the black rhinoceros. Eshed - Gemstar will also contribute a share from their future sales of Chipembele.
The team that discovered the emerald believe it formed under near perfect conditions, enabling the combination of the elements beryllium, chromium and vanadium to crystallise into a large, distinct hexagonal crystal with glassy surfaces and a rich golden green colour.

The rarity of Chipembele is evident when looking at its unusually large size, coupled with high transparency and vivid colour. Its structure displays the emerald in its original crystal state without the presence of host rock or by-product.
"We congratulate Avraham on yet another achievement in his lifelong commitment to the coloured gemstone industry. Relationships with trusted partners like Eshed - Gemstar, who share Gemfields' principles of trust and transparency, have been the driving force behind our ability to build a unique model within the coloured gemstone industry, which supports sustainable development in places like Zambia," says Gemfields product and sales MD Adrian Banks.

Chipembele comes with unique identification nanoparticle tagging and a blockchain ledger, both provided by Provenance Proof, a subsidiary of Gübelin Gem Lab.
This means that the resulting cut and polished gems from Chipembele can be identified and certified as having originated from this specific gemstone, and therefore from the Kagem emerald mine in Zambia.