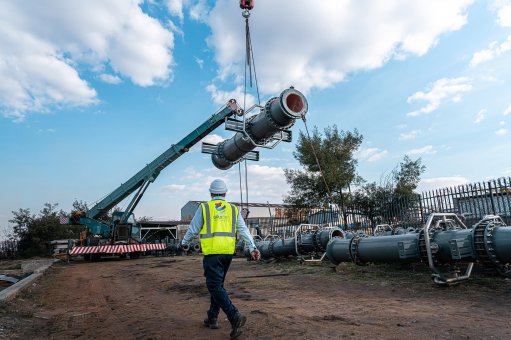 INCREASED BENEFITS The MACH Reactor provides the lowest capital alternative to improving processing plant recovery
The recovery of fine liberated platinum group metals (PGMs) from ore can be improved using metallurgical technology company GoldOre's MACH Reactor, which also offers economic and environmental benefits such as increased concentrate grade and reduced energy consumption, says GoldOre director Adrian Singh.
A significant challenge for PGMs concentrators is the recovery of fine liberated PGM minerals below 25 μm, and especially below 10 μm, with the majority of losses to tailings for most concentrators being PGM minerals in the fine to ultrafine particle size range.
These fine minerals are often fully liberated, but poorly recovered in conventional flotation systems, owing to a mismatch between bubble-to-particle size, which leads to exceptionally low recoveries in this size range, explains Singh.
The bubble sizes generated in conventional flotation systems are too large for attachment to fine material, which has led to many approaches being followed by technology suppliers to address the issue.
Such approaches include increasing the power adsorption of conventional flotation machines, adding more pneumatic flotation machines that target a finer bubble size to replace conventional machines, and developing cavitation technology such as the MACH Reactor.
Flotation preconditioning using the MACH Reactor ahead of flotation concentrators provides the lowest capital alternative to improving processing plant recovery and increasing the ounces produced for the same throughput.
Singh adds that the PGMs basket price has "taken a knock" recently, which, in turn, has placed added pressure on PGM producers to implement innovative ways of maintaining profit margins, which he says, can be achieved using the MACH Reactor.
MACH Reactor Benefits
The MACH Reactor solves the dilemma of fine-particle flotation by selectively nucleating pico-bubbles directly onto the surfaces of fine target mineral, which, in turn, renders them amenable to conventional flotation through an intermediate process of aggregation.
This artificially increases the particle size to an ideal size for flotation through the formation of particle clusters, Singh explains.
The plug-and-play technology can be easily retrofitted to any flotation plant, regardless of the flotation technology employed in the circuit.
Using the MACH Reactor for flotation enhancement through preconditioning with cavitation results in various benefits, including reduced concentrate mass, improved flotation kinetics and improved flotation recovery.
Singh explains that recovery improvements range between 2% and 8%, depending on the ore: "This has a significant impact on ounces produced, profitability and project economics."
Return on investment for the installation of the MACH technology is usually less than six months and, by improving the recovery of valuable fine mineral that would otherwise be lost to tailings, the MACH Reactor makes a "firm contribution" towards improving overall mineral recovery.
The reactor can assist the PGMs industry in "getting closer" to eradicating the need for tailings scavenger plants and the remining of tailings dams, along with reducing the associated carbon emissions, he adds.
Environmental Benefits
Singh notes that adding power to traditional flotation cells is counterintuitive in terms of environmental impact and the pursuit of a net-zero carbon future.
Therefore, GoldOre prioritised reduced power consumption of its MACH Reactor technology, which the company has achieved, with a 70% reduction in electricity use as part of its drive to reduce carbon emissions.
The reactor also works well with all alternative power generation technologies, such as solar farms, consequently making a positive contribution to a greener and more sustainable future, he says.
Further, the improved flotation kinetics that can be attained when using the reactor allow for a smaller plant footprint, which, in turn, reduces its environmental impact.
"There is also the potential to reduce reagent consumption, which not only reduces costs but also has the positive spin-off of reducing hazardous chemical emissions into the environment," adds Singh.
He claims that there is no drawback to using the MACH Reactor technology, as the technology has been proven through ten years of deployment on a global basis, with a life span to match that of a project and no maintenance requirements.
However, a significant challenge GoldOre has encountered is "the extremely conservative mindset" of the leaders in the PGMs industry and, as a result, some companies are hesitant to introduce the MACH Reactor in their plants, he notes.
"The industry needs to embrace new technology now more than ever and create low risk, fast-track programmes to assess, evaluate and test new technologies for accelerated implementation and roll-out into operations."
Singh adds that it can typically take up to 20 years to introduce new technology into the PGMs industry. However, new and pressing challenges are being brought about by the green revolution, and therefore, "time is of the essence".
"A new era of pioneering is called for" to ensure the viability and sustainability of the PGMs sector, he concludes.