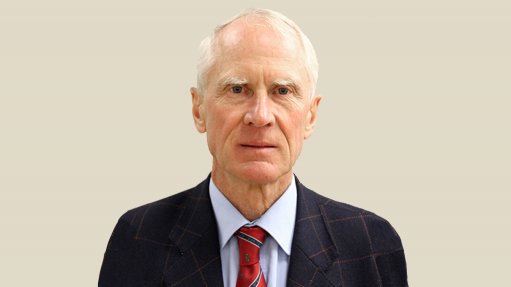 Steenkampskraal chairperson Trevor Blench.
JOHANNESBURG (miningweekly.com) – A rare earths development is marking time owing to a prospecting right appeal to explore where a mining right has already been granted, Steenkampskraal chairperson Trevor Blench disclosed at last week's Junior Indaba.
The Steenkampskraal mine contains all 15 rare earths, including those that are used to make electric vehicles and wind turbines.
As reported by Mining Weekly last month, Steenkampskraal Holdings (SHL), which owns the rare earths project, in the Western Cape, has decided to raise equity funding through a pre-initial public offering and public offering on the Aim market of the London Stock Exchange and a secondary listing on the Johannesburg Stock Exchange.
A subsidiary of SHL, Steenkampskraal Monazite Mine, has all the regulatory approvals in place to start mining and producing monazite concentrate. SHL is in discussions with potential offtake partners.
Steenkampskraal has a mineral resource estimate of 605 000 t of ore, grading 14.4% total rare earth oxides (TREO), containing about 86 900 t of TREO, including 15 630 t of neodymium, 4 459 t of praseodymium, 867 t of dysprosium and 182 t of terbium.
The mine was previously operated by diversified mining major Anglo American from 1952 to 1963, during which time it produced 26 969 t of TREO.
SHL envisages a production rate of 2 700 t/y of TREO over a life of more than 20 years, involving first producing and selling monazite concentrate, then progressing to producing and selling mixed rare earth concentrates, and thereafter producing and selling separated rare earth oxides.
The project is also said to have brownfield exploration potential.
SHL recently appointed Graham Soden as a director and the mine manager of Steenkampskraal, while Timothy Crombie has been appointed as a director and project manager.
In a presentation to last week's Junior Indaba covered by Mining Weekly, Blench disclosed that although the mining right to mine for rare earths and other minerals on portion 1 of the farm Steenkampskraal was secured from the Department of Mineral Resources and Energy (DMRE) in 2010, a few months ago another company applied for a prospecting right for rare earths on the same portion of Steenkampskraal.
"The DMRE correctly refused to approve that permit for a prospecting right over the same land where we hold the mining right. However, the company that applied for that prospecting right appealed to the DMRE against their decision to refuse that prospecting application.
"We've now been waiting for 60 days, which is the statutory period that the DMRE has to review these appeals, and we still do not have the reply from the DMRE.
"We want to raise money for our project. There's an application of a prospecting right on land where we have a mining right, which contests the legitimacy of our mining right.
"If there is an opportunity for claim jumpers to come in and apply for prospecting rights where you have already issued a mining right, then it questions the validity of the mining right," said Blench, who implored the government to make it clear that the mining right is secure so that investment can proceed.
During question time, Junior Indaba chairperson and mining stalwart Bernard Swanepoel spoke of Minerals Council South Africa having resolved administrative problems of a similar kind in the past.
"My advice from past experience is that the channel between Minerals Council South Africa and the DMRE functions reasonably well, so if there is a clear case of the DMRE having 60 days and not coming back, it may be worth contacting the Minerals Council, and I could even assist you. We have resolved a few such administrative problems in the past. If it's just inefficiency, then this channel may assist," said Swanepoel.
MINE PROGRESS
According to its website, Steenkampskraal has a:
compliant technical report with both mineral resource and reserve estimates;
renewable new order mining right valid until 2030;
National Nuclear Regulator certificate of registration that allows it to mine, process, transport and store naturally occurring radioactive materials;
DMRE-approved mining works and environmental management programmes;
mineralogical characterisation of the ore and metallurgical test work;
partly refurbished mine shaft; and
water use licence permitting pumping up to 1 000 m3 of water a day, boreholes able to meet the mine's water requirements, a reverse osmosis water treatment plant, office buildings, considerable infrastructure and three surrounding farms totalling about 7 000 ha in addition to the mining right area of 474 ha.
Steenkampskraal is said to have one of the highest grade rare earth deposits in the world, with each ton of mine ore containing rare earths calculated to be worth about $3 750/t.
The company's website talks of the total quantity of neodymium in the mine being 15 600 t at a grade of 2.58% neodymium oxide.
Economist Blench emphasised the potential to increase the mineral resource beyond the current mine area as well as the low capital expenditure required owing to much of the work and the investment to bring the mine into production having already been done.
Operating expenditure is also expected to be lower owing to the shallowness of the mine with an average depth of 100 m and the calculation that ten tons of ore will yield one ton of rare earths.
The Junior Indaba was told that an investment of R940-million would enable Steenkampskraal to produce rare earths worth roughly R60-billion over a 25-year mine life.