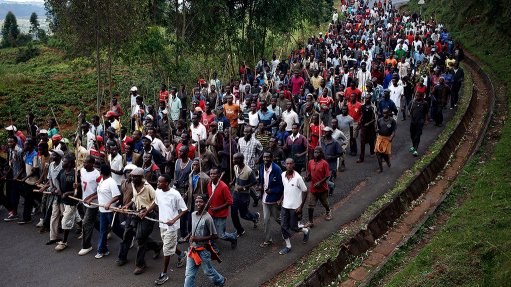 WICKUS BOTHA Although the drop in commodity prices has really impacted many governments' ability to fund big projects, Africa has to work through these economic headwinds and continue to invest in infrastructure
Mining exploration and development company Rainbow Rare Earths is closely monitoring events in Burundi, hoping for a peaceful resolution to political upheaval, including a failed military coup last month.
Rainbow's primary asset is the high-grade Gakara rare earths project, close to Lake Tanganyika and the border of the Democratic Republic of Congo, in the west of Burundi.
Trial mining at the Gakara project is scheduled to begin in the fourth quarter of this year.
Rainbow announced in April that it had secured $12-million in financing through an agreement with mining investment company Pala. This investment is geared towards funding the studies that will detail the mining method and sequence, investigating optimal processing methods, and preparing for trial mining.
Subject to the completion of certain milestones, Pala agreed to fund the project to full production; however, Rainbow tells Mining Weekly that, amid the current situation in Burundi, it refrains from commenting on its future plans.
Following Burundi President Pierre Nkurunziza's announcement in April this year that he would take up an unconstitutional third Presidential term, widespread and daily protests ensued in the country, in addition to the failed military coup.
Shortly after the attempted coup, Nkurunziza fired three Ministers, including Trade Minister Marie Nizigiyama.