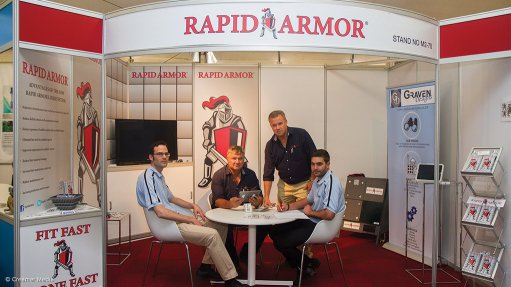 The revolutionary liner maintenance system from developer Rapid Armor is designed to change the way in which maintenance is performed on liner systems in mining and quarrying plants.
This system raises the bar for maintenance efficiency, plant utilisation and cost reduction, most importantly, decreases safety risks, highlights the Northern Cape-based company.
The Rapid Armor liner maintenance system offers an improved life cycle that increases plant uptime and, thereby, the revenue an operation generates.
To complement the system, Rapid Armor developed its patented Rapid Hook fastening system, which reduces maintenance time for liner systems to less than 10%.
Rapid Hook also reduces the need for skilled technicians on a plant's maintenance team and exposure to health and safety risks, eliminates hot work in confined work spaces and reduces liner material wastage and maintenance costs, while improving ergonomics in confined spaces, extending liner maintenance intervals and increasing an operation's production rate and revenue.
"There's no other liner system that offers more to reduce your long-term expenses, while improving capacity and efficiency. The research that went into the production of the Rapid Armor liner system has created a bridge that meets the specifications of savvy industry operators. The system still provides your favourite liner products or a better alternative with all the added advantages," enthuses the company.
In view of this new innovation, Rapid Armor stresses that conventional liner systems are not an ideal or safe option for today's mining requirements, adding that the Rapid Armor liner maintenance system has undergone several test runs that have proven its efficacy.