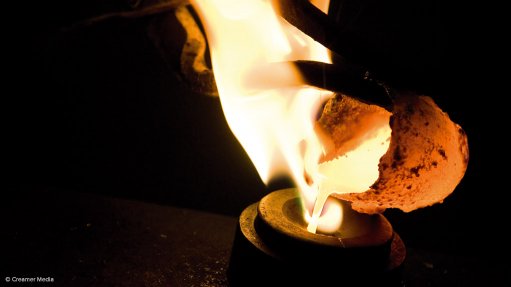 Photo by: Duane Daws
JOHANNESBURG (miningweekly.com) – Rand Refinery has secured a "precautionary" R1.2-billion irrevocable, subordinated loan facility from its shareholders.
The gold refiner on Friday revealed that this had followed implementation difficulties after it, last year, adopted a new enterprise resource planning software system, which had resulted in an 87 000 oz difference between the actual gold inventory and the accounting records.
While the refinery's precious metals refining and smelting operations remained unaffected, uncertainty around the "true position" had prevented the company from being able to finalise its annual financial statements for the financial year ended September 30, 2013.
Rand Refinery, which processes 380 t of gold a year, has requested financial assistance from shareholders should resolution of the difficulties result in a financial loss.
Sibanye Gold, which held a 33.15% stake, and AngloGold Ashanti, with 42.41%, committed R448.5-million and R573.8-million respectively for the facility, while Harmony Gold, holding a 10.38% stake, would contribute R140.4-million, and Gold Fields, which owned 2.76%, R37.3-million.
DRDGold, with 11.3%, supported Rand Refinery's move to secure the facility, but would not participate.
AngloGold Ashanti said in a note to shareholders that it would make a $51-million provision for the transaction, which would impact the second-quarter earnings scheduled for release on August 11.
Harmony added that it would make a R125-million provision against its investment in Rand Refinery, impacting its fourth-quarter results, which were set to be published on August 14.
Rand Refinery pointed out that it had appointed external financial and technical specialists, including Accenture, to assist and had initiated "actions and controls" to "stabilise the situation".
The facility, if drawn down, was convertible to equity after a period of two years.