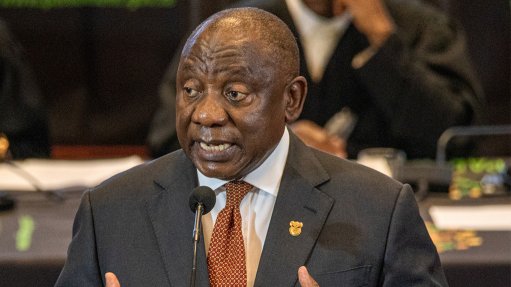 President Cyril Ramaphosa
President Cyril Ramaphosa has denied that there is any incoherence in his Cabinet regarding the Just Energy Transition Partnership (JETP) with developed countries that have agreed to extend $8.5-billion in concessional financing to support South Africa's transition from coal to renewables.
He was replying to a question posed by the Good Party's Brett Heron on whether recent conflicting comments by various Cabinet Ministers on the future of South Africa's coal plants were not at odds with the JETP obligations South Africa had undertaken to heed.
The President insisted that South Africa remained committed to transitioning away from coal, but again stressed that it would do so at a pace that was in line with the needs of the domestic economy and society.
"[The deal] is a great boon to South Africa, because it brings enormous resources.
"It's not every day that you are able to pick up $8.5-billion, and if you deal with the exchange rate today, it's a great deal of money," Ramaphosa said, speaking as the value of the rand was falling sharply against the US dollar and other currencies.
"If we are not finally able to close that deal, it basically means that we lose that investment that could have come our way."
However, he insisted that there was no incoherence and also no "turf wars" between the four Ministers with overlapping responsibilities for electricity, namely Gwede Mantashe, Pravin Gordhan, Barbara Creecy and Dr Kgosientsho Ramokgopa.
The President argued that Ramokgopa, who was yet to receive formal powers, had made a compelling case regarding the possibility of revising the coal plant decommissioning schedule in light of loadshedding, but that South Africa still remained committed to the decommissioning of its aging coal stations.
He also rebuffed an argument made by African Christian Democratic Party leader Reverend Kenneth Meshoe that South Africa was being "told" by Germany, France, the US, the UK and the European Union to transition away from coal.
"We were not told, no, we were not told.
"We have been involved in an inclusive process . . . and of our own volition we said that climate change is a reality and we see its devastating impact [and] we, like other nations, have to make our own decision and contribution . . . and we came out with our own national determination."
He indicated the review of the decommissioning schedule was an indication that the transition would take account of the country's specific circumstances, but added that there was no intention to avoid decommissioning as it would be too expensive to operate the old plants, which were also the cause of serious respiratory disease, for too much longer.
Ramaphosa dismissed Democratic Alliance leader John Steenhuisen's assertion that the governing African National Congress (ANC) was "clinging to the dirty coal of the past" because the ANC was receiving corrupt financial benefits in return, as had been highlighted in recent allegations by former Eskom CEO André de Ruyter.
He urged those with evidence of corruption, including against high-level politicians and Ministers, to make such evidence available to the law enforcement authorities.
"We cannot deal with innuendo, we cannot deal with those types of rumours without full evidence and information," he said, while insisting that investigations would be undertaken once such evidence was provided or charges laid.
He also listed various arrests, charges and recoveries that had been made at Eskom in recent months, arguing that it indicated that government was acting against crime and corruption at the utility.
"There are pending criminal cases or referrals to the National Prosecuting Authority by law enforcement in at least 125 instances and a further 65 referrals to the Asset Forfeiture Unit relating to Eskom.
"At least 25 former senior executives at Eskom have been included in a database of individuals dismissed for their involvement in State capture and corruption at Eskom."