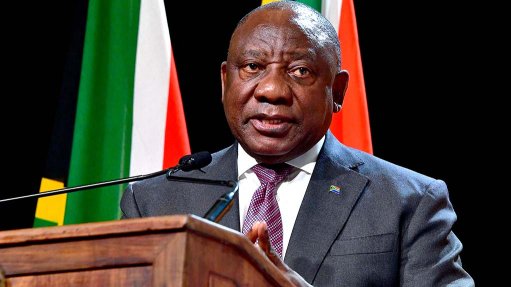 President Cyril Ramaphosa
Amid intense load-shedding, which has been under way continuously since early September and has at times been implemented at Stage 6, President Cyril Ramaphosa has warned that there is "no quick fix" to the problem, which he says has "a long history".
Writing in his weekly newsletter a week after having cut short a working visit abroad, notably his participation in the seventy-seventh Session of the United Nations General Assembly, the President acknowledged widespread public anger, which he described as "wholly justified".
While conspicuously refraining from criticising the current Eskom leadership, the President said: "Given the unpredictable performance of Eskom's fleet of coal-fired power stations, we will not be able to eliminate loadshedding in the short term. This is the unfortunate reality of our situation, which has had a long history."
No elaboration was provided by Ramaphosa regarding this "long history", but it has been widely reported that government's failure to ensure that new capacity was built timeously in line with Eskom's warnings that such capacity would be required before 2010 is a key cause of the current crisis.
LONG HISTORY?
Once the build programme eventually began in 2007, it soon emerged to be extremely poorly planned, with execution further hampered by design defects and corruption.
By 2008, load-shedding was introduced as the old plants started feeling the effects of being operated at an energy utilisation factor well above the global average.
The problem was amplified by massive delays and cost overruns at Medupi and Kusile and Ingula, leading to warnings by energy analysts in about 2014 that the energy availability factor of the old coal fleet would continue to decline unless new capacity was added to create the space needed to conduct maintenance.
Instead, the then Eskom leadership at the utility doubled down by refusing to enter into new power purchase agreements with independent power producers, claiming a return to a surplus operating position.
Policy inertia followed until 2018, when renewables projects that were procured in 2014 where eventually allowed to proceed.
However, procurement of additional capacity was delayed by the finalisation of the updated Integrated Resource Plan, which was eventually Gazetted in October 2019.
It then took months before Ministerial determinations required to facilitate further procurement were published and the fifth bid window of the renewables bidding round was eventually initiated only in April 2021.
To date, only three wind projects of the 25 projects named as preferred projects in October, have signed power purchase agreements, but none have as yet progressed to financial close.
All the while, the new Medupi and Kusile units have been underperforming, while the extended maintenance required to prepare Koeberg for a life extension has been poorly implemented leaving one unit out of operation for most of 2022, adding one stage of load-shedding whenever power cuts have been implemented.
The crisis has been made substantially worse in recent years by strikes, sabotage and ongoing corruption at certain stations.
3.6 TWH OF CUTS ALREADY
Eskom statistics plotted by Clyde Mallinson show that there has been 3.6 TWh of load-shedding for the 2022 year-to-date, double the 1.8 TWh of cuts for the whole of 2021, which was previously recorded as South Africa's worst-ever year for load-shedding.
Depending on the cost of unserved energy used, Mallinson estimates the cost to the economy for the year to date to be between R72-billion and R360-billion.
The performance has ramped up pressure on government to intervene at Eskom, but Ramaphosa argued in his letter that addressing breakdowns represents a "significant challenge given the average age of power stations, and that in the past critical maintenance was not undertaken at the necessary intervals".
Nevertheless, he added that government was giving close attention to the skills, experience and capabilities of the Eskom leadership to ensure that the company has the best people at all levels of the organisation. Sunday Times reported on the weekend that board changes could be announced soon.
Ramaphosa also insisted that there were real signs of progress and good reasons to be optimistic, "if we look just beyond the most immediate crisis".
He pointed to progress being made to implement the various interventions announced on July 25 to tackle the worsening load-shedding crisis, including bringing back people with experience in running power stations to help with plant operation, management and mentorship.
"To ensure that critical maintenance is undertaken without delays, discussions are under way to ease local-content requirements for spare parts and to use the equipment manufacturers to undertake maintenance," he added.
The President also highlighted progress on intervention to add non-Eskom capacity, including the enlargement of the next renewables bidding round from 2 600 MW to 4 200 MW, and the removal of the licensing threshold for private generation projects.
Also highlighted was an Eskom initiative to buy 1 000 MW of emergency capacity from companies with existing generation capacity, as well as to secure imports from neighbouring countries.
"As we work with greater urgency to fix the immediate problem of an unreliable power system, we are also busy laying the groundwork for a sustainable, lasting solution to the country's electricity woes," the letter concludes.