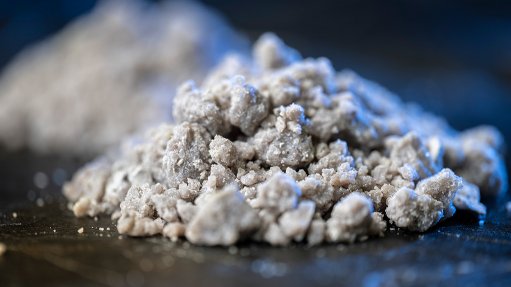 Mixed rare earth sulphate
London-listed Rainbow Rare Earths has achieved successful first production of mixed rare earth sulphate at the Phalaborwa pilot plant, in South Africa.
This validates Rainbow's process flow sheet to recover rare earths from phosphogypsum.
The 3 kg of mixed rare earth sulphate that Rainbow produced is of expected purity and grade and includes all four of the critical magnet rare earths – neodymium, praseodymium, dysprosium and terbium.
These magnet rare earths are used to make the permanent magnets essential to decarbonisation through their use in electric vehicles and wind turbines.
The sulphate is a commercial product that could be a standalone revenue stream for the company, with an estimated 60% of payability of the global price for the contained separated rare earth oxides.
Alternatively, it can also be used as feed for the back-end pilot plant built at K-Technologies' facilities, in Florida, in the US, for final processing into separated rare earth oxides.
Rainbow plans to have a first batch of separated rare earth oxides early in the next quarter.
Moreover, the front-end pilot plant reagent consumption and overall recovery rate of 65% are in line with the expectations of the preliminary economic assessment on the Phalaborwa project.
Rainbow will now run the front-end pilot plant for an additional quarter to further optimise recoveries and costs.
Although the Phalaborwa front-end pilot plant is situated at the Johannesburg facilities of the Council for Mineral Technology, it is treating phosphogypsum feed from Rainbow's Phalaborwa project in the Limpopo province.
In terms of the back-end rare earth oxide separation process, Rainbow is exploring the option of establishing a commercial scale plant in the US, which would establish the company as one of the only producers of four permanent magnet separated rare earth oxides in the US.
The company aims through its proprietary flow sheet to produce separated rare earth oxide products at 99.5% or higher purity that can be sold directly to metal and alloy manufacturing customers, which, in turn, feed permanent magnet manufacturing customers.
CEO George Bennet comments that the production of mixed rare earth sulphate from the front-end pilot plant is a major milestone for the Phalaborwa project and validates Rainbow's strategy to recover rare earth elements from phosphogypsum stacks.
"This achievement not only de-risks the project, it also opens up exciting opportunities for the company to apply the proprietary technology to other similar phosphogypsum resources globally, including at the Mosaic Uberaba stack, in Brazil," he points out.
By producing separated rare earth oxides by early next quarter, Rainbow will further de-risk the Phalaborwa project and will be able to capture the full uplift in value by taking its product all the way through to separated rare earth oxides, which should bode well for future revenue and profitability.
Meanwhile, Rainbow is working to secure 100% ownership of the Phalaborwa project, up from its current 85% stake.