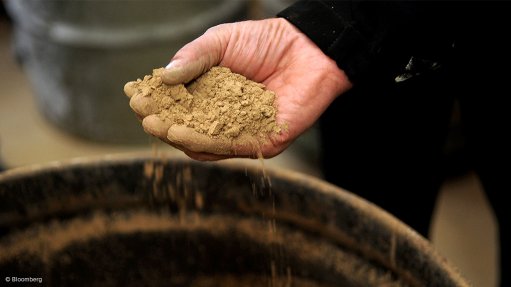 Rare earth elements
Photo by: Bloomberg
Aim-listed Rainbow Rare Earths has signed a binding agreement for the co-development of the Phalaborwa rare earths project, in South Africa, with Bosveld Phosphates.
The project comprises about 35-million tonnes of gypsum resulting from historic phosphate hard rock mining, containing rare earth elements (REEs) with an estimated average in situ grade of 0.6% total rare earth oxides (TREOs), based on previous sampling campaigns.
Rainbow and Bosveld intend to jointly develop and process REEs from the gypsum contained in two stacks at the project site.
Initial grab sample assays from the about 35-million-tonne gypsum stacks indicate 0.6% TREOs, indicating about 210 000 t of contained TREOs, with neodymium (Nd) and praseodymium (Pr) – together NdPr – anticipated to constitute about 30% of the TREO basket.
The unique nature of these gypsum stacks results from the historic concentration of REEs during State-owned phosphate producer Foskor's flotation process, followed by further upgrading in chemicals company Sasol's PhosAcid plant, leading to REE concentration in chemical (rather than mineral) form, which enables simpler onward processing, the companies say.
Sasol developed a comprehensive process flowsheet to extract the rare earths from the gypsum, which resulted in a successful pilot plant operation, producing about 3 t of mixed rare earth carbonate at about 80% recoveries.
Initial reports suggest low levels of radioactive elements, similar to those seen at Rainbow's Gakara project, in Burundi.
The project is fully permitted, with an environmental impact assessment having been completed.
The reprocessing of these gypsum stacks carries significant environmental benefits in that it will redeposit clean, benign gypsum, which then has the potential for further use in the building and fertiliser industries, acclaims Rainbow.
Rainbow will pay Bosveld about $750 000, in a combination of cash and shares, in three equal tranches over 12 months, with the first tranche payable after completion of an initial due diligence process.
The due diligence process is expected to take up to 35 days to complete.
On completion of a prefeasibility study (PFS), 70% of the project will held by Rainbow and 30% by Bosveld, with a mechanism included to allow for Rainbow's joint venture ownership to vary from 60% to 85%, dependent on the results of the PFS.
"This joint venture represents an important and exciting step in Rainbow's strategy to benefit from the expected growth in global demand for rare earth metals.
"The considerable amounts of historical test work carried out to date, together with positive initial assays and successful pilot plant operations, indicate that this opportunity, in conjunction with the company's high-grade Gakara project, will enable Rainbow to become a very significant producer of NdPr, to power the green revolution.
"This joint venture positions Rainbow as the only REE producer with both country and project diversification," states Rainbow CEO George Bennett.