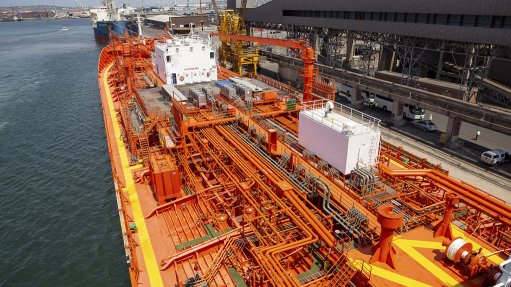 ALL HANDS ON DECK South Africa's rapidly expanding offshore oil and gas activities require a supporting fleet of vessels
Mnambithi Group subsidiary Nduna Maritime and petrochemicals company Sasol have entered into a R400-million enterprise and supplier development funding agreement for South Africa's first locally owned maritime vessel.
The landmark event boosts South Africa's maritime capabilities edging it closer to providing adequate development and support for the establishment of a gas economy capable of driving the country's economic growth, as per the National Development Plan (NDP).
The agreement addresses Operation Phakisa's concern for South Africa's lack of registered ships. Operation Phakisa, a mechanism put in place by government to implement the NDP, highlights that South Africa's rapidly expanding offshore oil and gas activities require a supporting fleet of vessels.
Government notes that South Africa has a sizeable capital stock and management capacity to produce fuel from gas, and expects the country's gas-to-power programme to procure 3 726 MW of capacity from 2019 to 2025, stimulating the gas industry and associated infrastructure development.
Mnambithi Group executive chairperson Vusi Mazibuko says "we have heeded the call to address the aspirations of our government's NDP by increasing investment in the country's ship registry as well as by creating an enabling environment for the improvement of human capital and skills development in the sector".
This is the Sasol Siyakha Trust's single largest funding agreement to date, with Nduna Maritime and Sasol having started talks in December 2017. To date, the Sasol Siyakha Trust has disbursed R426.7-million since 2007 to 91 small, medium-sized and microenterprises.
"Sasol, as a company proudly rooted in our South African heritage, is committed to making a significant contribution to South Africa's economic transformation. "We believe that, through enabling players to participate in our value chain, we catalyse further economic growth," says Sasol assurance and supply chain executive VP Vuyo Kahla.
According to a statement released by Mnambithi in August, South Africa spends about R160-billion a year on foreign-owned and operated vessels.
Built in 1998, the specialised chemical tanker, named the Bow Cecil, was procured from chemicals and liquid shipping company Odfjell Tankers in Bergen, Norway, and will become the first vessel registered to carry the South African flag to transport chemicals to international markets.
The vessel, equipped with 47 tanks, was called to the Port of Durban on August 1 for its inaugural load to Asian markets, which mostly included chemical products from Sasol, as well as spot cargo.
Kahla says this is a significant investment in localising and diversifying Sasol's supply chain.
"As a global producer of numerous chemical products, we supply several markets globally with South African-made products. Through Nduna Maritime, we are extending our value chain participation through a wholly owned South African business."
Mazibuko states that the company has long-term plans to own and operate its own tankers.
The Bow Cecil is operated by Odfjell Tankers, with shipments handled by the Odfjell Mazibuko South Africa (OMSA) joint venture, in which Odfjell has a 55% share.
"Through our partnership with Odfjell Tankers, we have been in the industry for some time, and that experience has led to this next step of acquiring this vessel," Nduna Maritime tells Mining Weekly.
OMSA currently has two contracts of affreightment with Sasol – the shipment of between 300 000 t/y and 350 000 t/y from South Africa to Europe and 240 000 t/y to 260 000 t/y from South Africa to India, the Middle East and Singapore. OMSA also handles shipments for other companies.
Sasol spends about R1.8-billion a year on shipping from South Africa to global markets. As the owner of Bow Cecil, Nduna Maritime will leverage this asset to increase its capacity to ship more chemical products to Asian markets.
The Bow Cecil will also handle inbound shipments of vegetable oils, caustic soda, phosphoric acid and other chemical products for chemicals group Omnia, national oil company PetroSA, pulp and paper company Sappi and agritrading enterprise FR Waring, besides others.
Nduna Maritime envisions owning and operating a pool of chemical tanker vessels as well as contributing to the development of scarce skills sets in the South African maritime industry, with a particular focus on youth development.
It also plans to expand its fleet in liquid bulk and dry bulk vessels, which will result in the company further deepening South African ownership of the maritime industry, notes Mazibuko.