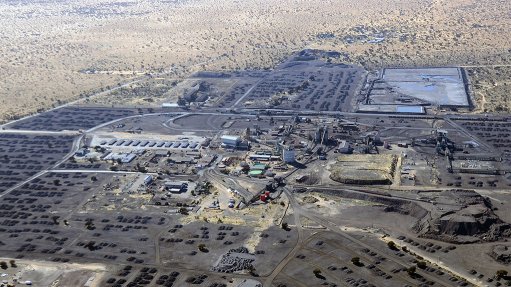 Black Rock Manganese Mine in Northern Cape.
JOHANNESBURG (miningweekly.com) – Capital expenditure (capex) of R2.7-billion has been approved for the modernisation and optimisation of Assmang's Gloria Manganese Mine at Black Rock in the Northern Cape, Assore CEO Charles Walters told Mining Weekly Online on Thursday.
Assore owns 50% of Assmang, which it controls jointly with Patrice Motsepe's African Rainbow Minerals.
Identifying manganese as the star performer in the 12 months to June 30, Walters said the expenditure is aimed at returning Black Rock's manganese production closer to one million tons a year, up from the current 500 000 t a year.
Also addressed will be safety improvement and the modernisation of the mine, which has been something of a stepchild when compared with development at N'Chwaning.
"So, we've decided to push the button on Gloria. It's got a decent payback. It's mostly sustaining capital and the it'll probably be spent in the next three, or possibly four, years," Walters told Mining Weekly Online.
The investment, which is aimed at increasing the flexibility of Black Rock to produce the premium grade products that the manganese market is demanding, will lift overall production capacity at the mine to some five-million tons a year.
As part of the modernisation, Gloria is expected to be shut for six months, with sales being met from inventory built up ahead of the shutdown.
The demand for manganese ore remained strong in the 12 months to June 30, driven by weaker-than-expected Chinese domestic manganese ore production and significantly higher Chinese electrolytic manganese metal production.
In the period, the average index price for 44% grade manganese material delivered in China rose to $6.88 per dry metric ton unit (dmtu), 19% up on the $5.77/dmtu in the previous financial year.
The alloy market remained undersupplied as growth in supply was insufficient to cover the increases in demand. These conditions, together with robust manganese ore prices, strong steel consumption and high steel prices resulted in alloy prices across the grades being maintained at the higher levels.
Sakura Ferroalloys in Malaysia achieved nameplate production, which resulted in increased earnings from the manganese division.
Assore's attributable earnings from Assmang iron-ore and manganese operations increased by 8% to R7.1-billion at the 100% level.
While iron-ore earnings were 25% lower than last year's at R3.3-billion, earnings from manganese ore and manganese alloys soared 71% to R3.8-billion, driven mostly by 5%-higher sales revenue of R27.5-billion.
Capex in Assmang amounted to R3.1-billion in the 12 months to June 30, with R1.8-billion spent on iron-ore-related waste stripping and additional mining fleet machinery requirements.
Black Rock's capex decreased by 19% to R1.3-billion as most of the Black Rock Expansion Project's surface infrastructure improvements have been commissioned.
As at June 30, 90% of the approved R6.7-billion capex on the Black Rock Expansion Project was committed or spent.
Project engineering company DRA Global said this week in a release to Creamer Media's Mining Weekly Online that it had secured an engineering, procurement and construction management (EPCM) contract for the replacement of the Gloria Manganese Mine's underground rock handling infrastructure and surface plant.
DRA said that it would be responsible for the EPCM of the project with a focus on the optimisation and modernisation of the mine, which will provide further flexibility to sustain the life-of-mine production expectations through the replacement of underground rock handling infrastructure as well as a new surface plant and its associated infrastructure.
"Our history with the project, from initial scoping phases through to the feasibility study, makes DRA the logical fit for project implementation," DRA senior VP JC Heslinga stated.
The project completion and final handover is expected late 2021.
"We're continuing to look in and around the operations that we already have for opportunities. Nothing specific that I can report on today, but clearly this is an area where Assmang and indeed Assore are both very focused to find further growth opportunities.
"We do see Khumani and Beeshoek at fairly steady operational state at this stage. We think Dwaarsrivier chrome mine has done two fantastic years of growth year-on-year, but we see it settling closer to this 1.6-million tons currently and really there's just some growth we expect to come out of the manganese side at this stage. Other than that, we're hard at work searching for what comes next.
"Internationally, we are looking further afield, but we're not neglecting South Africa. Production has come up to full capacity at Sakura Ferroalloys in Malaysia and we managed to sell all the tons that it produced, which was a fantastic part of the story this year.
"With Sakura having reached steady state, the future growth options for Malaysia are now being studied. As we look at all operations, we'll look at Malaysia too," Walters told Mining Weekly Online.