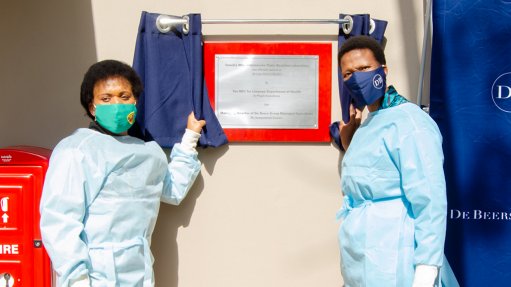 Limpopo MEC of Health Dr Phophi Ramathuba (left) and De Beers Group Managed Operations MD Mpumi Zikalala (right).
JOHANNESBURG (miningweekly.com) – De Beers' Venetia Mine has unveiled a R10-million coronavirus testing laboratory that will be used to check the diamond mines' employees and contractors for Covid-19.
Discussion with the Department of Health is also under way on assisting with the government's screening efforts in the mine's labour sending areas of Musina and Blouberg.
The laboratory, which will play a vital role in the diagnostic testing process for Covid-19 among employees and contractors, is expected to analyse at least 80 tests a day with a 24-hour turnout time for results.
Operated by two technicians, the high-throughput laboratory is fully equipped with a Polymerase Chain Reaction (PCR) machine and other vital equipment including storage fridges, biosafety cabinet and centrifuges to increase testing capacity and analyse test samples to help speed up diagnoses and curb the spread of the virus.
If aligned to the Limpopo Department of Health's testing strategy, the laboratory will also analyse test samples from the Musina Hospital, Louis Trichardt Memorial Hospital and Helena Franz Hospital, which are the local health facilities identified for screening positive Covid-19 patients from Venetia and the communities surrounding the mine.
Venetia Mine has also appointed three clinical associates and provided vehicles to allow them to conduct home-based responses as part of the company's WeCare Programme, which is designed to encourage employees and contractors to protect themselves from exposure and transmission of Covid-19, as well as monitor and manage their health should they test positive.
The new laboratory is one of several efforts by De Beers Group and Venetia Mine to contribute to the local, national and global fight against the pandemic.
"As a business, our first and most important value is to put safety first. We value the health and safety of our people above all else and are equally committed to delivering support to our host communities throughout this difficult period. The PCR laboratory is one element of our range of proactive response measures to support the fight against this global pandemic and through which we hope to increase access to testing, not only for our employees, but also communities in partnership with the Department of Health," De Beers Group Managed Operations MD Mpumi Zikalala stated in a release to Mining Weekly.
"We welcome this development as the Department of Health as it will go a long way in assisting us as government to deal with the current testing backlog. As a resource constrained department, we do appreciate every single collaboration, especially the likes of this laboratory, which not only will focus on testing employees at Venetia mine, but community members as well," Limpopo Health MEC Dr Phophi Ramathuba stated.
Through the company's Covid-19 Community Response Plan, Venetia Mine has made a significant contribution towards food security, water provision and local government clinic support since government announced the national lockdown in March.
To date, Venetia Mine has provided food parcels to vulnerable households within the Musina and Blouberg local municipalities, and has donated much needed groceries to Helena Franz Hospital, Musina Hospital and the Musina Showground Shelter for the homeless.
Through its water provision projects, the mine installed, as an emergency interim measure, a 10 000 l water tank with four additional taps for the Simpson Village in Blouberg and cleaned, repaired and recommissioned the existing 100 000 l reservoir, restoring access to sustainable water supply to the village.
The local government clinic support programme will assist 11 local health facilities, which includes two clinics and one public hospital in Musina and six clinics and two hospitals in Blouberg. The programme will also focus on:
providing two ventilators to local hospitals;
facilitating training for healthcare workers, faith leaders and traditional healers in the local clinics, through training videos and professional training;
providing clinical personal protective equipment, including the provision of medical equipment for safety and temperature checking; and
providing medical supplies, such as surgical masks, disposable gowns, examination gloves, goggles, scrubs and thermometers, and clinicians, for further clinic support based on the facility's needs.
"As Venetia Mine, we recognise the important role that we play in our host communities, not just from a socioeconomic perspective, but also the provision of a number of vital services. We fully support the government's efforts to reduce the impact of Covid-19, and we are proud of the work we have been able to do alongside the Limpopo government, community leaders and our various partners in providing necessary support to the vulnerable members of our society during these challenging times," Venetia Mine GM Gerrie Nortje stated in the release to Mining Weekly.
Together with its joint venture partners, De Beers Group employs more than 20 000 people across the diamond pipeline and is the world's largest diamond producer by value, with mining operations in Botswana, Canada, Namibia and South Africa.