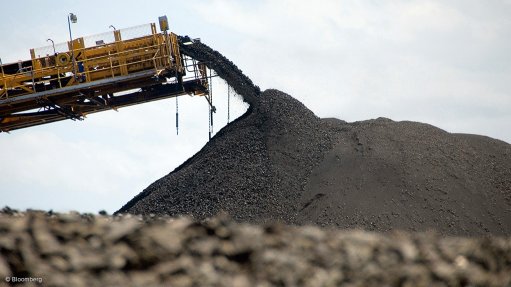 Photo by: Bloomberg
PERTH (miningweekly.com) – The Queensland government on Tuesday introduced new royalty rates for coal miners, bringing to an end a ten-year royalty freeze.
"Multinational coal companies have enjoyed an extraordinary period of stability in Queensland's coal royalty regime, thanks to the government's extended freeze on coal royalties," Treasurer Cameron Dick said while announcing the state Budget.
"However, with the freeze expiring on June 30, 2022, the existing rates do not account for the unprecedented windfall prices that coal producers are now receiving. Our existing coal royalty tiers were primarily designed for lower coal prices, with a top tier at A$150/t, with royalties charged at 15%.
"However, with coal recently trading at over A$500/t, our current rate structure is clearly no longer fit for purpose."
Dick said that, to reflect the new price levels being achieved, three new progressive coal tiers would be introduced on July 1.
The new rates will be 20% for prices above A$175/t, 30% for prices above A$225/t, and a 40% tier that would apply when prices exceed A$300/t.
"Importantly, the higher tiers only take effect on the portion of the royalty price above the relevant price," he said.
"For example, if coal prices are A$302/t, a very high price by usual standards, the 40% tier will only apply to the A$2 portion."
Dick said the new progressive royalty regime will minimise impacts on the coal industry.
"Based on export values and volumes over the past 10 years, average prices for hard coking coal, the metallurgical coal used for steelmaking, have exceeded the new tier of A$175/t for only half that time, while average thermal coal prices have only exceeded A$175 in recent months, for the first time ever," he said.
"These changes mean coal producers can rest easy knowing they will not be hit with higher royalties when prices are low and the industry is struggling. Importantly, during periods of low prices, Queensland royalty rates will be lower than those charged in New South Wales."
The Treasurer said that the additional funds raised through the royalty hike will be used to invest in regional hospitals.
"Importantly, we will be investing all of this money, and more, in delivering better infrastructure for regional Queensland. The budget provides more than A$4-billion dedicated to hospitals in regional Queensland, including a new hospital for Moranbah, and major expansions for Mackay, Townsville and Cairns.
"These changes will mean more money to regional Queensland, instead of flowing interstate or overseas as windfall profits," he said.
The Queensland Resources Council (QRC) said on Tuesday that the government's decision to impose "the world's highest royalty taxes" on the resources sector would hit regional communities and businesses hard, as companies are forced to rethink their future investment and employment plans.
CEO Ian Macfarlane said the industry is reeling from the addition of an extra three tiers of royalty taxes on coal, representing a huge cost increase to producers based on current prices.
"This decision from the government will have a flow-on effect on the cost of living through higher electricity prices, higher construction costs and higher-priced consumer goods that will add to inflation and impact every Queenslander," Macfarlane said.
"This is a seriously misguided economic policy that will make Queensland's number one export industry and private sector employer less internationally competitive."
He said the decision to increase royalty taxes to fix a hole in the budget is a short-term, political move with long-term consequences for a major, wealth-creating sector of the Queensland economy.
"This tax grab has been developed behind closed doors and without consultation with industry. It's a kick in the guts and not a fair deal for the resources sector, which has kept the Queensland economy afloat during the pandemic by supporting jobs and businesses throughout the state," he said.
"Regional resources communities have every right to ask this government why their jobs and the economic prosperity of their towns should be put on the line for the sake of a short-term budget fix.
"The Queensland resources sector already pays the highest royalty taxes in Australia, double that of New South Wales, and will now pay the highest rates in the world.
"Under the existing arrangements, as our commodity prices go up, so too do the royalties we pay into the state budget, which means every Queenslander benefits from our prosperity. That's why this year, royalty taxes paid by the coal industry is an all-time record and four times last year's payments."
Macfarlane pointed out that resources companies were just like any business, with higher taxes meaning less profit, which meant less investment and fewer jobs in the future.
"What the government also isn't telling people is that because of the GST equalisation process, 80% of the extra royalties raised will be redirected to Canberra over the next five years anyway.
"So, the net economic benefit for Queensland will be minimal but the potential damage to our industry and the Queensland economy could be major."
Macfarlane said Queensland's resources sector contributed a record A$84.3-billion to the state economy last financial year through the flow-on effects of industry spending. It also supports the jobs of more than 422 000 people.
"Resources employees, who earn the highest average income out of any sector in Australia, all pay income tax as do the 15 000-plus businesses in our sector's supply chain. Resources companies are also Australia's biggest company taxpayer," he said.
"In total, this financial year, Queensland's resources sector will pay more than A$8-billion in royalty taxes into the state budget because of higher commodity prices, which is more than three times the amount companies paid last year.
"That's why we say 'when the resources sector is doing well, so is Queensland', because the amount of royalty taxes our industry pays into the state budget goes up when prices go up – that's how the system works."
The Association of Mining and Exploration Companies (Amec) has also expressed disappointment over the decision to increase coal royalties, with CEO Warren Pearce saying the decision would ultimately impact investment in the state and across the resources sector.
"This is the third such increase in the last 15 years, which is anticipated to rake a further A$1.25-billion into government coffers. Queensland's coal industry has not only delivered record-breaking royalties exceeding A$6-billion, the highest amount of royalties ever paid to a Queensland government but has been the backbone of Queensland's post-Covid economic recovery. An outcome that has essentially secured this year's budget surplus," said Pearce.
"Amec stands with our coal members in opposition to the coal royalty changes and urges all Queenslanders to consider the important role coal continues to play in our economy.
"Queensland's coal royalties were already easily the highest in Australia and continued increases ultimately act to deter future resource investment in Queensland, not just in coal projects, but across the entire resources sector.
"Royalty rates of 30% and 40% will certainly make international investors think again before making major new investments in Queensland. Ultimately, today's announcement will make it harder for all Queensland resources companies to secure investment to build new projects," he added.