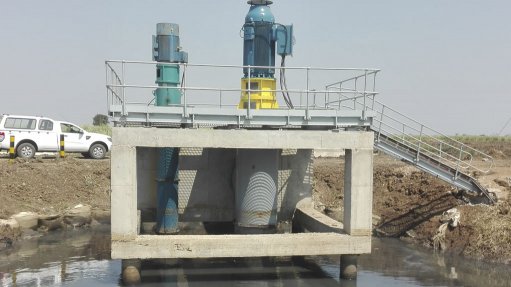 FLOOD MITIGATION The 1 200 nominal bore (NB) Brehnor Ornel Floodlifter pump on the right, with a smaller 600 NB pump on the left
South African pumps manufacturer and supplier Brehnor Pumps has commissioned two Ornel Floodlifter 1 200-mm-diameter pumps on the Xinavane sugar estate, in Mozambique, owned by agricultural and agroprocessing business company Tongaat Hulett.
The pumps – locally manufactured in Germiston, Gauteng – will be used as a drainage application.
This comes after Tongaat Hulett announced details of its ongoing commitment to the long-term success of the Mozambique sugar industry in July. Its R550-million investment in the construction of a sugar refinery at Xinavane has recently been completed. The investment was described by Tongaat Hulett CEO Peter Staude as "supporting [the Mozambique] government's objectives of growing the local economy, promoting domestic production and contributing to the balance of trade equilibrium, thereby contributing to social upliftment, rural development and job creation".
Brehnor, subsequently, installed two pumps at Xinavane during the past six months. Construction on the first pumpstation started in May, with the second having been commissioned in the same month. The flow rate of each pump is 3 600 ℓ/sec at a 4 m discharge head. Brehnor GM Richard Rudling says flows of this magnitude are essential, as it is essential when flooding at the estate occurs due to tropical storms, cyclones and river flooding.
He adds that the pumpstations at Xinavane are used in drainage applications, with drainage occurring when significant volumes of water, travelling from floods upstream in South Africa or caused by cyclones travelling inland, flood the region.
Rudling explains that flooding at sugar estates can have disastrous consequences if sugar cane fields are not drained effectively and timeously; if the plants are submerged for a period, they will die.
"So, you have to get rid of that water within 48 hours to 72 hours. Flooding could affect kilometres of an estate, with water covering the root system and stem of the plant, resulting in major crop loss."
The Ornel Floodlifter pumps driven by 220 kW motors at 433 rpm, which means that the pumps run slowly when dispensing such significant amounts of water.
Besides drainage, Brehnor pumps can also be used in irrigation applications, extracting large amounts of water into dams, as well as water harvesting with canal systems. In industry, Brehnor pumps are used for any low-head, high-flow applications.
The company has a significant African footprint, operating in Namibia, Zimbabwe, Zambia, Malawi, Tanzania, Nigeria, Sierra Leone and Swaziland.