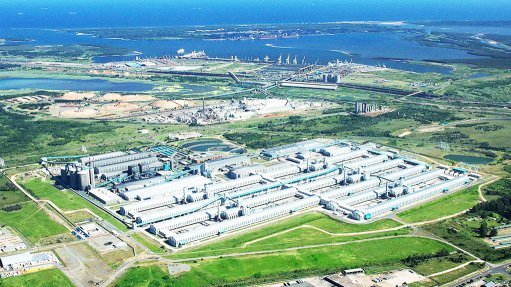 South32's Hillside Aluminium in Richards Bay.
JOHANNESBURG (miningweekly.com) – Power utility Eskom should link its delayed Tubatse pumped storage scheme to the need for Hillside Aluminium to go green.
This could be done, a close observer of the intensive electricity user sector of the South African economy contends, through Eskom enabling an independent power producer (IPP) or public-private partnership (PPP) transaction involving Hillside Aluminium, a critically important commercial partner to Eskom and its closest operational customer.
As reported by Mining Weekly last week, if the ASX- LSE- and JSE-listed South32 group is unable to secure an affordable source of low-carbon electricity for Hillside, this key KwaZulu-Natal smelter risks becoming uncompetitive in the international market over time, given the emergence of carbon border tariffs and end-user demand for green aluminium.
The contention being put forward is that Eskom's De Hoop dam Tubatse hydro-battery project, which was held back several years ago owing to capital constraints, could be able to do what chemical batteries cannot, and assist the South African economy materially at the same time.
Many countries are planning expansion of pumped hydro energy projects over the next decade as they seek to add stability to growing fleet of wind and solar power plants. These large long-life hydro batteries are going ahead around the world because of their ability to store electrical energy in large quantities competitively. Had the Tubatse hydro-battery project gone ahead when originally scheduled, it would likely have already paid for itself in diesel saving during day peaks.
Now, owing to the large capacity of the Tubatse hydro battery requiring an equally large customer, Hillside and Eskom are seen as a perfect match for a deal of this nature.
South32's initial study results indicate that, combined with battery storage, renewables could be technically feasible, through new solar photovoltaic and wind capacity.
Owing to the electricity-intensive aluminium smelter's significant economic and social importance, South32 has commenced just transition planning to support options for the smelter if its energy transition is not commercially viable and the smelter becomes uncompetitive.
The aluminium smelter plays an important role in underpinning the stability of the national electricity grid, as Eskom has the flexibility to interrupt supply to the smelter to support management of the grid and minimise load-shedding.
But Hillside also accounts for a high 58% of the Scope 1 and 2 carbon emissions of the four operations that South32 runs owing to its carbon-intensive electricity consumption and is in need of significant greening.
It is contended that Tubatse would enable a green Hillside smelter to compete from 2030 to beyond 2050 only if Eskom and Hillside continue their close relationship over these necessary phases:
IPP- or PPP-supported construction of the 12 000 MWh Tubatse hydro battery to Hillside through a contractual amendment of the power supply contract on the basis of the integrated Eskom grid being able to optimise the use of the 12 000 MWh Hillside hydro battery to eliminate burning turbine diesel during daily peak load periods, and both Eskom, and a greener Hillside, scoring the carbon-credits and avoiding expensive peak tariffs;
New 1 000 MW photovoltaic and wind electricity being wheeled over Eskom grid to power Hillside during most days, with Eskom grid backup; and
Another new 1 000 MW photovoltaic and wind to recharge the Tubatse hydro battery, again with Eskom grid backup.
Currently Eskom grid is the backup to South32's Mozal Aluminium smelter in Mozambique, which is hydropowered.
Without the 12 000 MWh IPP hydro-battery project available from Eskom, there is a likelihood that Hillside will close when its low-cost Eskom power contract expires in less than ten years.
Could Hillside's modern potlines then be relocated to the Democratic Republic of Congo (DRC), for 24-hour green power from the Inga 3 hydropower project?
Was it not BHP Billiton, out of which South32 was unbundled, that replaced President Thabo Mbeki's important Westcor Project, by convincing the DRC that aluminium smelting in the DRC is better than 4 000 MW to South Africa through Angola? An inter-governmental memorandum on Westcor was signed on 22 October 2004 in Johannesburg, followed by the shareholders' agreement signed by the national electricity companies. The prefeasibility study was completed in 2005 but never saw the light of day.
It is now contended that with the 12 000 MWh Eskom hydro battery operating as an IPP or PPP project with Hillside, the aluminium smelter could compete as a green smelter by coupling huge hydro-battery capacity to solar and wind.
Hillside and Eskom have only about eight years to implement a phased green solution.
Now underway at the Richards Bay aluminium smelter is a trial of energy efficiency technology, with a feasibility study and final investment decision expected this financial year. The AP3XLE technology involved is already being deployed at Mozal.
Alternative processing technologies, such as inert anodes, required to achieve carbon-free aluminium smelting, are also being worked on. Scope 1 emissions are primarily from the consumption of carbon anodes in the smelting process. Achieving net-zero operational carbon emissions in the aluminium sector will require the commercialisation of alternative processing technologies, such as inert anodes or other technology developments.
During its sustainability presentation, South32, headed by CEO Graham Kerr, highlighted that it is supportive of Eskom's plans to decarbonise, through investment in more efficient plant and new renewable energy capacity.
The company emphasised its intention to work with the South African government, Eskom and other potential partners to identify options to secure green electricity.
Hillside has bottom-quartile carbon intensity compared with hydropowered Mozal's top-quartile position, and South32's second-quartile Alumar aluminium smelter that is being restarted in Brazil will be fully powered by long-term cost-efficient renewable electricity.
Aluminium, a lightweight metal for electric vehicles and construction, represents 36% of the value chain of South32, which provides its aluminium smelters with its own alumina, which the smelting process then electrolytically reduces to liquid aluminium.
Emphasised by Wood Mackenzie during last month's energy transition webinar were carbon taxes on the horizon that could send the price of unabated aluminium sky-high owing to the large quantity of electricity that is required for aluminium to be produced.