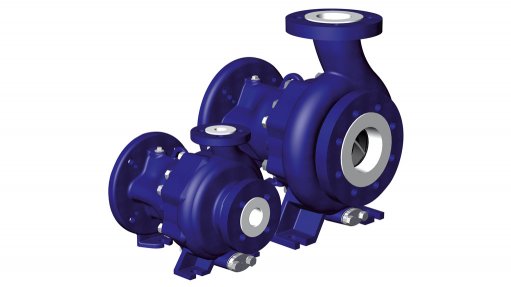 ONE OF A KIND Vedermag is the only magnetic drive pump that can handle up to 20% solids
Using the Verdermag pumps range in the chemicals and petrochemicals industries eliminates leakage of corrosive and hazardous chemicals, as it is an encapsulated pump and therefore leak-free, states pumps manufacturer Verder Pumps South Africa sales engineer Rob Shaw.
The Verdermag centrifugal pumps range is supplied in metallic and non-metallic options, making it a complete, well-balanced series of magnetically coupled centrifugal pumps.
Shaw explains that this range can operate at speeds of up to 3 500 rpm as there are no mechanical seals, enabling smaller pumps to be installed at a significant cost saving. Added to that, water or barrier fluid is not required for flushing, which results in operating costs and maintenance savings.
Verdermag pumps are the only magnetic drive pumps that can pump liquids with solids in suspension of up to 20%. Normally, forward and backward hydraulic thrusting is a major problem with magnetic drive pumps as impellers on magnetic drive pumps are not fixed but float. However, the Verdermag pumps have a patented thrust balance arrangement that eliminates pump thrust normally associated with magnetic drive pumps.
"Because the wet end materials are exotic materials such as ethylene tetrafluoroethylene as standard and the shaft and bushes are sintered silicon carbide, the magnetic drive pumps can pump most corrosive products," he adds.
Many Verdermag pumps operate in processes for prolonged periods without any breakdown issues. This is owing to the inherent robustness of the mechanical design. Under normal working conditions, the only wearing part is the impeller and bearing assembly, which typically should be inspected every 16 000 hours with an expected service life of 44 000 hours if the liquid is clean and non-abrasive.
Shaw believes that the Verdermag pumps range is the best option for the chemicals and petrochemicals industries, compared with the competitors because of the simple but advanced construction and containment properties it comprises. The pump is simple by design, having fewer parts than most conventional seal cartridges which are generally used on competing pumps. This ensures easy maintenance and assembly, and the complete elimination of fugitive emissions.
Verder offers a two-year warranty on the Verdermag pumps range and minimal maintenance is required in the first five years of service, he adds.
Shaw concludes that there is tremendous scope for growth in terms of the use of Verdermag pumps in the chemicals and petrochemicals industries from an environmental point of view.