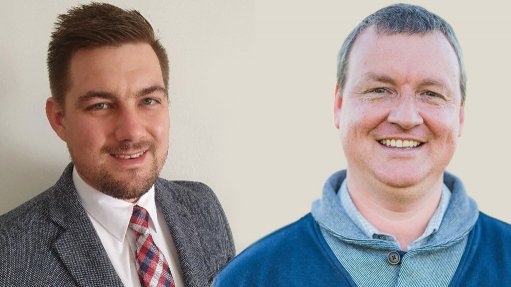 Jaco Prinsloo and Christo Botha, the key developers of the green hydrogen solution.
JOHANNESBURG (miningweekly.com) – A Proudly South African green hydrogen mobile solution, which is scheduled to be launched at the African Aerospace and Defence Exhibition (AAD) next month, ticks all the local boxes by making use of a platinum-catalysed hydrogen proton exchange membrane fuel cell (PEMFC) and also being able to accommodate PEM electrolyser technology if need be.
Built in response to local and international demand to meet the need for alternative energy solutions, GESS can provide 230 kWh of electrical power to remote and isolated locations, delivered by solar photovoltaic panels, lithium-ion batteries and the PEMFC.
"We decided to channel our expertise, dedication and attention to developing green hydrogen solutions, which resulted in the development of South Africa's first green hydrogen mobile solution and becoming the green powerhouse in South Africa," Rheinmetall Denel Munition stated in its invitation to Engineering News & Mining Weekly to attend the launch at AAD on September 21.
The company, which is jointly owned by Rheinmetall Waffe Munition GmbH (51%) of Germany and Denel South Africa, is best known in munition and plant engineering circles, having been established in 2008 when Denel's Somchem, Swartklip and Naschem became part of the group.
The complete modular, self-sustaining, renewable decentralised energy solution is specifically designed to be adaptable to client-specific requirements.
It is easily transported between locations, does not rely on external infrastructure, and is sufficiently robust to be operated in several geographical locations.
The units can be optimised for maximum hydrogen production in the event of a preference for green chemical production rather than decentralised energy.
"We will target both the commercial and defence market. We are also designing a similar system for field hospitals and clinics in remote lactations, which will be able to provide medical grade oxygen as an additional product," the company stated.
The different decentralised energy and green chemical production units will be designed in Somerset West, Cape Town, whereas the various different system integration functions and over-all system manufacturing will be executed in Boskop, Potchefstroom.
Although the green hydrogen is predominately produced through electrolysis by an alkaline electrolyser, a platinum-group-metals-using PEM electrolyser can also be used.
The unit is designed in such a manner that one can modify each component to accommodate more efficient technology becoming available. Hence, this system can accommodate renewable electricity produced from wind and/or hydropower if available at a particular site.