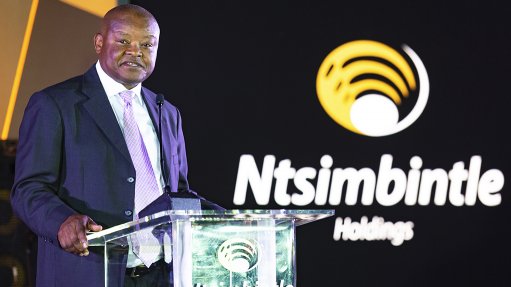 Ntsimbintle chairperson Saki Macozoma
JOHANNESBURG (miningweekly.com) – Unlisted empowered mining investment company Ntsimbintle Holdings, which last month grabbed the headlines by becoming the biggest shareholder in the ASX-listed Jupiter Mines Limited, has promising additional manganese mining assets serving a manganese market that observers describe as having extremely attractive fundamentals, Mining Weekly can today report.
In acquiring just under 20% of Jupiter, Ntsimbintle is entitled to 47% of the profit from the manganese ore produced by the Tshipi Borwa Mine in the southern part of the Northern Cape's Kalahari basin, which puts it in a strong position as Tshipi is one of South Africa's biggest manganese exporters. [Ntsimbintle is still only entitled to 37% of the ore which it trades through Ntsimbintle Marketing and Trading in Singapore].
But also deserving to be taken into account are Ntsimbintle's other promising manganese assets, which collectively place this company in a position to, in the words of Ntsimbintle chairperson Saki Macozoma, "capitalise further on regional and co-development consolidation opportunities, that will allow it greater exposure to the current extremely attractive manganese fundamentals".
This is because Ntsimbintle's other assets include:
51% of the brand new Mokala manganese mine, which came into production last month, which is expected to produce a million tonnes a year at steady state, and where the major London- and Johannesburg-listed Glencore is the 49% partner;
effective 50.1% of Khwara manganese (where Traxys Projects is the 49.9% partner), on which a bankable feasibility study has been completed and which is located on the northern portion of South32's well-established Wessels manganese mine;
9% of South32's 66-year-old Hotazel Manganese Mines (HMM); and
100% of Ntsimbintle Marketing and Trading, the company's Singapore-based marketing operation that provides pit-to-customer integration across the manganese value chain, and which is augmented by Limeng, Ntsimbintle's port stockpile business in China, which has its own staff and which sells stockpiled manganese ore directly to the Chinese end customers.
Formed in 2003 to pursue exploration and mining opportunities emerging in the South African manganese sector, Ntsimbintle scored big with its investment in Tshipi, which has overtaken HMM and Assmang in manganese ore exportation at a time of growing demand and constrained supply.
The company with the management contract to run Ntsimbintle Holdings is Safika Resources, headed by CEO Justin Pitt who left Rand Merchant Bank in 2002 to set up Safika Resources together with Macozoma and Moss Ngoasheng, and where Gina Bleyenheuft is CFO. The executive team has spent 19 years spearheading the executive and transactions work for the company.
Ntsimbintle Holdings owns 74% of Ntsimbintle Mining, with the remaining 26% owned by OMH Mauritius (Corp), a 100% owned subsidiary of ASX-listed Singapore-trading business, OM Holdings, that has a smelter complex in Samalaju, Sarawak, Malaysia.
Ntsimbintle Mining, in turn, owns 51% of Tshipi, Ntsimbintle and Safika's premium asset and "shining light", in the words of Pitt.
Ntsimbintle applied for the Tshipi mineral rights at the start of the new millennium and it was Macozoma and Pitt who raised the R2-billion needed to build the mine.
Macozoma was earmarked to be chairperson and Pitt CEO of what was to be a listed entity, with current Ntsimbintle Mining CFO Lyndsay Maseko, but due to unfavourable market conditions experienced whilst embarking on an initial public offering in Johannesburg and London three years ago, the listing did not take place, and remains off the radar.
PROSPECTING RIGHTS
Ntsimbintle was awarded prospecting rights for an area between Kathu and Hotazel and commenced prospecting activities in 2006.
To fund mine development and construction, other investors, including Pallinghurst Co-Investors/Jupiter Mines and ASX-listed OM Holdings, acquired direct stakes in Tshipi and Ntsimbintle Mining.
The Tshipi mining right application was approved in 2010 and, after a 20-month construction and commissioning phase, the Tshipi Borwa mine railed and exported its first manganese ore in 2012.
The application for various sets of mineral rights under the promulgation of the Mineral and Petroleum Resources Development Act in 2003 and 2004 led to Ntsimbintle obtaining Mokala and Khwara and the shareholding in HMM.
"Essentially, we had applied for contiguous properties next to the Mamatwan and Wessels manganese mines as Samancor's BEE partner," Pitt recalled.
Ntsimbintle's application for a third section – involving the Smart, Rissik and Botha farms – was unsuccessful and went to United Manganese of the Kalahari (UMK) and UMK built its mine there.
Ntsimbintle's Samancor deal with at that stage BHP Billiton, and now South32, collapsed, resulting in the company being left with portions of mining rights on Mamatwan and Wessels, which were both too small on which to develop a mine.
Applications for entire farms on Mamatwan and on Wessels were successful and small portions of those farms were vended into Mamatwan and Wessels in return for a 9% unencumbered stake of HMM, which provided Ntsimbintle with R300-million of the equity capital required to build Tshipi.
Pallinghurst, where Brian Gilbertson's private equity fund had five groupings together, earned in to the remainder of the Tshipi Mining Right.
"We negotiated that they would do a feasibility study and would have a right to buy into 49.9%, which they duly did and they vended their 49.9% into Jupiter Mines Limited, the ASX-listed entity, and we then retained a 50.1% shareholding."
"We had to raise additional capital to fund our portion of the construction cost of the mine and we sold 26% of our 50.1% to OM Holdings, which raised another R440-million for us. This, together with the R300-million realised as part of the HMM transaction, enabled us to pay for the development of Tshipi," Pitt explained.
By 2010, Ntsimbintle was an effective 37% shareholder of the fully funded Tshipi Borwa mine, a 9% shareholder in the operational HMM [HMM had already been in operation for about 45 years], with Mokala now on properties applied for at the same time on Gloria Remaining Extent, immediately to the south of and contiguous to the Assmang Gloria mine.
Khwara (Wessels North) is to be amalgamated into Lehating Mining (recently renamed Mn48), the largest shareholder of which is Traxys Projects, and, a bankable feasibility study has been completed on the combined project.
In addition, Ntsimbintle's 37% portion of the production of Tshipi, which last year came close to 1.2-million tonnes, is sold through Ntsimbintle Marketing and Trading, headed by CEO Keith Saffy and where Potlako Borole is CFO, as part of the company's pit-to-customer strategy.
"It was important for us that we had an understanding of our customer and the market and prospects in China, hence the trading operation in Singapore and the stockpile business in China," said Pitt.
LARGEST UNSUNG SUCCESS STORY OF THE DMRE
When Ntsimbintle began in 2002/03, South Africa sold half of the volume of ore that Australia sold into the international market, yet South Africa hosts the largest estimated mineral reserves of manganese ore globally and accounts for about 74% to 78% of the world's identified manganese resources.
"Today, South Africa sells double what Australia sells and South Africa has earned its rightful place in the sun," said Pitt, who was asked by Mining Weekly to elaborate on Ntsimbintle's co-development consolidation opportunities.
"The first of these to be successfully achieved is mining the barrier pillar that separates South 32's Mamatwan and Tshipi's openpits. Both we and South32 get massive benefit from mining this barrier pillar and hopefully, working together will lead to something bigger going forward."
Pitt said there were no discussions taking place at the moment but added "if one looks at the Kalahari basin as a whole, there are three areas that logically fit together, the northern section, the middle section and the southern section. If one is taking a ten-year strategic view, the areas of the south should be mined together and the areas of the middle and the areas to the north should be mined together – this is how the mineral body is found in the earth."
EXTREMELY ATTRACTIVE MANGANESE FUNDAMENTALS
Regarding the $2.25-trillion infrastructure package announced by US President Joe Biden, it is estimated that $1.6-trillion of the stimulus package directly benefits the users of steel. This compares favourably to the $600-billion Chinese stimulus infrastructure package of 2008.
"This is almost three times the size of that. So, when we look at the fundamentals of the industry, and it is iron-ore, coking coal and manganese that go into steel, if this comes out of the US, this could drag the manganese industry on for the next ten years.
"You've also got China with the Silk Road, you've got the ports the bridges and the cities. The fundamentals of manganese going forward for us look very good.
"Significant supply cut is envisaged over the short term and demand growth estimated for the medium to longer term. This bodes well for manganese fundamentals."
"A very exciting part of the story is the research work being done around manganese as a low-cost contributor into electric batteries for domestic battery chargers that can be used to charge battery electric vehicles. That is a very exciting new market in which there are massive innovations at the moment," he said.
Maseko stated that manganese ore is a vital and irreplaceable element in carbon steel production. As manganese is part of a long value chain, demand for manganese ore is ultimately driven by changes in demand from end-users, primarily steel producers. Outside of its steel applications, manganese is quietly becoming a significant contributor to the electric vehicle market. Industry body the World Steel Association forecasts short term steel demand (2021-2022) to grow by 5.8% and with long term growth forecasts (2020-2025) estimated at ~2% a year, the market fundamentals supporting the acquisition remain competitive.