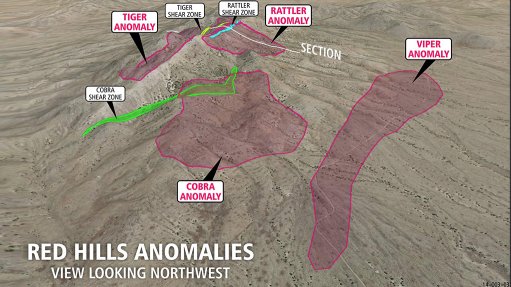 BIG POTENTIAL The four Carlin anomolies found are spread over an area of about 20km² on the eastern margin of Nevada
Australian exploration company Carnavale Resources has come across promising anomalies in western Arizona and eastern Nevada, Carnavale MD Andrew Beckwith tells Mining Weekly.
In the past six months, Carnavale has discovered five anomalies, four of which comprise the company's Red Hills project, in Nevada, and the fifth being a large supergene blanket in Arizona, he adds.
Beckwith explains that it is not the anomalies, but rather their sources, that are significant and likely to be big deposits of mostly gold and copper, which Carnavale intends to develop and mine.
The Red Hills project, situated in eastern Nevada, near the town of Ely, covers about 20 km2, with four big Carlin-type anomalies having been found in soils and rock chips within the area. Three of these anomalies also contain strong zones of high-grade gold, silver, lead, copper and zinc, which were historically mined in the area during the early 1900s, and Carnavale intends to drill-test the surrounding area in the coming months.
"The real attraction to the Red Hills project . . . is to find the next big Carlin gold mine," states Beckwith.
He explains that Carlin mines are typically large-tonnage, low-grade and sediment- hosted deposits, originally named after the Carlin mine, discovered in the 1960s, which was the first of a series of large deposits found along the Carlin trend towards the north of Nevada.
Several Carlin deposits have been discovered along different trends across Nevada, some of which contained up to 20-million ounces of gold, with gold miners Newmont Mining Corporation and Barrick Gold Corporation operating large Carlin mines in Nevada. The state produced more than five-million ounces of gold in 2013, mostly from Carlin-style mines.
Beckwith believes that the Red Hills anomalies found by Carnavale lie along the south-eastern extension of the Carlin trend. The geological setting is very similar to the most recent large Carlin discovery of Long Canyon, which Newmont acquired in 2011 from Frontier Gold.
The benefits of a Carlin mine are extensive, he says, explaining that the large-scale Carlin-hosted gold is generally amenable to extraction through a heap leaching process, which is very cost effective. Beckwith estimates total extraction costs to be between $600/oz and $900/oz, which compares favourably with the current gold price of $1 270/oz at the time of going to print.
As part of the same geological trend in Nevada, moving south into western Arizona, Carnavale has established the Little Butte project after discovering a 50-m-long, 300-m-wide and 50-m-thick low-grade gold and copper supergene blanket. The company has secured the option to acquire 100% of the rights to the land.
Beckwith emphasises that Carnavale is not interested in the supergene blanket, but rather in the mineralisation in the blanket being secondary, as it has been remobilised from a larger primary deposit, which is Carnavale's main target.
Australian mining company Sandfire Resources' DeGrussa high-grade copper mine, in Western Australia, is most similar to the Little Butte project, Beckwith states, as remobilised gold and copper in highly weathered rocks were initially found and, when the fresh rock directly beneath the blanket was drilled, a larger and higher-grade copper and gold deposit was discovered.
Beckwith explains that the DeGrussa orebody can be detected using geophysical methods. Drawing from the Sandfire case, he believes that the best way to locate the source of the supergene blanket in Little Butte is by conducting a similar electromagnetic survey prior to drill-testing.
He says Carnavale went to Little Butte following other discoveries of gold- and copper-rich shallow prospecting pits with significant gold and copper mineralisation in the weathered rock in that area of Arizona.
Meanwhile, Beckwith asserts that Nevada and Arizona are the two most mining-friendly states in North America, adding that both regions have experienced mining communities and good infrastructure to facilitate mining operations.