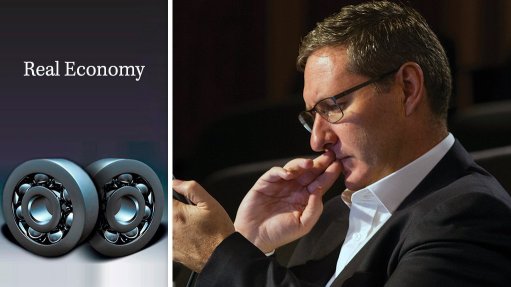 Analogies between the state of South Africa and Bafana Bafana were easy to make after the team's disappointing draw with Libya in Durban earlier this month. As with the national team, the atmosphere surrounding the country is far from supportive, despite a decidedly improved global economic climate. The toxic Presidency of Jacob Zuma has left the country with an economy that seems grimly unable to surprise on the upside. South Africans were, thus, left disappointed, but not surprised, by the country's most recent retreat into recession.
The economy, as with Bafana, currently lacks two key supportive ingredients: confidence and certainty. At kick-off, it felt as though the handful of travelling Libyan fans outnumbered our supporters. Likewise, many private and corporate citizens are failing to turn up, either in the form of entrepreneurship or investment – a problem fermented by the prevailing policy uncertainty. In the worst cases, some South Africans are actively talking down the country's prospects.
As with the lowly ranked Libyan team, the challenge of turning around the economy is also sorely underestimated. The damage done by State capture and economic mismanagement is not merely financial. It has led to deep societal distrust, which is continuing to undermine efforts at forging a new social compact and making citizens resistant to any new efforts at shoring up flagging revenues.
Corruption has also left a governing party with fractures so deep that it will be almost impossible for it to provide policy coherence and economic leadership until after next year's election – and then only if President Cyril Ramaphosa delivers a decisive victory.
The current clamour for Ramaphosa to show decisive leadership by ditching the Zuma faction also tends to ignore the compromised nature of resolutions adopted in December. It will not be possible for Ramaphosa to deviate materially from the outcomes without being accused of promoting disunity. Therefore, while unsatisfactory and uncomfortable, it may, in fact, be preferable for Ramaphosa to focus on mediating, rather than leading, so that good ideas from civil society aren't crowded out by the bad ones cobbled together at Nasrec.
That brings me to what the Libya draw, and our current economic jam, are obscuring. As with Bafana, South Africa is once again in transition. The national team is mostly young, unified and seemingly well managed. Likewise, there are some early signs of renewal in South Africa and its economy. State-owned company boards have been overhauled, ushering in a greater sense of honesty about their predicaments and a willingness to consider new solutions. There are signs that more sensible policies will be pursued in the crucial areas of mining and energy. And there is a growing realisation that business is not an impediment to development, but a potentially powerful ally.
Obscuring these green shoots, however, is the debate on changing the Constitution to make it more explicit on when land can be expropriated without compensation. This will continue to be the case until the debate is settled and a sensible resolution found. With that debate and the election out of the way, South Africa, like Bafana, will again be seen as holding, on paper at least, much promise. The trick, then, will be to deliver on the field of play.