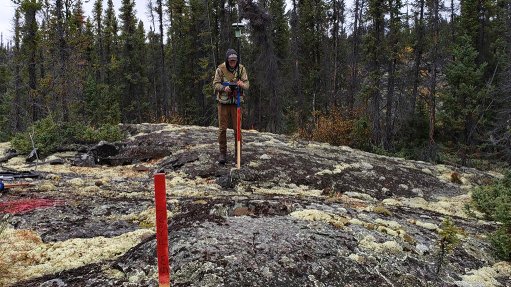 CRITICAL MINERALS DEMAND The vertically integrated NICO project would provide a reliable North American source of three Critical Minerals produced responsibly with Canadian ESG values
The shovel-ready status of North American miner Fortune Minerals' NICO cobalt/gold/bismuth/copper project positions it well to help diversify the sources of critical minerals in North America in the near term, states Fortune Minerals president and CEO Robin Goad.
The company announced in January that it had entered into an option agreement with engineering company JFSL Field Services to buy JFSL's former steel fabrication plant, in Canada's province of Alberta.
Fortune acquired this brownfield site to construct the hydrometallurgical refinery for the planned NICO mine in the Northwest Territories. The company has six months to carry out additional due diligence and complete the purchase of the facility for C$5.5-million.
Goad stresses that the global transition to the use of clean energy technologies, and the automotive industry's increased focus on electric vehicles (EVs) and battery storage, will create "unprecedented demand" for minerals – referred to as critical minerals – needed for new energy technologies.
Moreover, the Canadian and US governments have signed a joint action plan on critical mineral collaboration to allow for North American production of critical minerals.
Goad notes that working with governments and local communities is essential to obtain a social licence to operate, which requires a significant investment in time and money.
"Fortune Minerals has invested over C$135-million in 25 years to advance our vertically integrated NICO critical minerals operation, from the in-house discovery to an advanced development-stage asset and near-term producer. The project comprises a planned openpit and underground mine and mill in Canada's Northwest Territories, and a related refinery in Alberta."
Fortune Minerals has received environmental assessment approval and the Type A water licence to construct and operate the NICO mine and concentrator.
"The NICO project would provide a reliable North American source of critical minerals produced responsibly with Canadian environmental, social and governance values. These are essential to support the transformation to new technologies and the growing green economy," he adds.
Crucial Infrastructure
The opening of the State-funded Tlicho highway in the Northwest Territories last November, linking the community of Whati to the national highway system, is a key enabler for the NICO mine, says Goad.
The 97 km, two-lane, all-season public highway was constructed by contractor North Star Infrastructure under a 28-year, C$400-million design, build, operate, maintain contract with the Government of the Northwest Territories. The capital costs also include about C$53-million in federal government contributions through the Canada Infrastructure Fund.
Goad notes that Fortune also plans to construct a 50 km spur road from Whati to the mine site, which was approved with the environmental assessment for the mine.
The company has also completed an access agreement with the Tlicho government, setting out the terms and conditions for construction of this road over Tlicho government land.
"After completing the spur road, metal concentrates can be trucked to the railway line at the Enterprise of Hay river, whereafter it will be delivered to the planned refinery site in Alberta."
With the Tlicho highway in place, some previously planned facilities for the mine can be eliminated, reducing capital costs and construction timelines, and mitigating supply chain risks during construction.
Using the all-season highway instead of seasonal winter roads can reduce the construction schedule from three to two years, he enthuses.
Critical Minerals
Goad highlights that the NICO project is one of the few development-stage cobalt assets outside the Democratic Republic of Congo (DRC), that the refinery will be independent of China, and that it is one of the most advanced critical minerals assets globally.
"When the refinery is established, it is also part of the business plan to supplement production with toll processing concentrates, sourced from other smaller projects, and to diversify into recycling of waste residues, scrap metals and spent batteries."
Goad stresses that cobalt is an important critical mineral, owing to its use in lithium-ion batteries.
The cobalt market is consuming more than 150 000 t of refined metal, with analysts projecting that consumption will grow to between 300 000 t and 400 000 t by the end of this decade, owing to demand from EVs, he states.
"More than 70% of cobalt mine production is currently sourced from the DRC, more than half of which is controlled by Chinese State-owned corporations. China also controls 68% of refinery production and 80% of cobalt chemical supply."
Goad also highlights bismuth as a critical mineral with unique properties, which is leveraged by the automotive industry for glass frits and anti-corrosion coatings, as well as metallic paints and pigments.
The bismuth market requires about 20 000 t/y, but demand for the mineral as an 'eco-metal' and environmentally safe alternative to lead is growing.
Goad points out that while China controls about 75% of the current bismuth mine and refinery production, the NICO deposit contains the world's largest identified mineral reserve.
"Additional North American production is needed to diversify the supply chains for cobalt and bismuth. "Governments are, therefore supporting potential near-term producers and processors to ensure availability of the key raw materials needed to sustain domestic industries," he concludes.