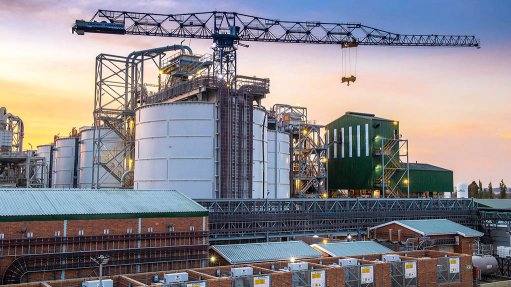 Pan African Resources' Elikhulu...one of DRA's gold projects.
JOHANNESBURG (miningweekly.com) – The 37-year-old South Africa-rooted project house DRA Global has applied for a secondary inward listing on the JSE under the main board's construction and materials, engineering and contracting services sector.
The diversified engineering, project and operations management group – now headquartered in Australia, where it is seeking a primary ASX listing – maintains a large presence and capability in Johannesburg, which continues to serve the South African mining sector, as well as serving as the headquarters for the Europe, the Middle East and Africa (EMEA) region.
Trading is expected to commence on the ASX and JSE on July 9.
Founded in South Africa in 1984, DRA operates as a single business across EMEA, Asia Pacific and North Central and South America, with its primary commodity exposures across 2018 to 2020 including being in gold, platinum group metals, diamonds, copper and iron-ore.
In its abridged prospectus and pre-listing statement on the Stock Exchange News Service (SENS), DRA described its four main revenue growth drivers as being new market entry; expanding the scale and diversity of its service offering to adjacent products and services; increasing existing market share; and acquiring complementary businesses.
The main purposes put forward for the proposed share offer and listing were providing existing shareholders with the opportunity to realise their investments; facilitating access to capital markets; creating a liquid market for share trading; and providing the increased profile that arises from being a listed entity.
A few years back, the Oppenheimer family trust's private equity company, Stockdale Street, acquired a noncontrolling but significant interest in DRA to position the company for strategic international expansion, underpinned by an enhanced balance sheet.
The transaction at the time provided material financial robustness to DRA, a primarily employee-owned company.
The then DRA president and CEO Wray Carvelas told Mining Weekly at the time that "the beauty of the investment is that Stockdale's in this for the long haul".
Then in May last year, DRA's earlier listing plans were delayed when the Federal Court in Perth ruled that the buy-back of the largely employee-held shares could not proceed.
When last interviewed by Mining Weekly, DRA was showing an appetite for early-stage co-investment in projects that had sound financial fundamentals, which included taking on projects on a build, own, operate and transfer (BOOT) basis.
"We'll consider BOOT. We like to work with clients that understand the value of DRA putting skin in the game. We don't want to become a significant owner in mining projects, but we certainly want to advance the early stages through sweat equity, cash or whatever makes sense for a particular deal. We'll find innovative ways of advancing projects into execution," Carvelas commented at the time, adding that the company had found incentivised contracts "very successful".
The SENS announcement stated that DRA has 54 101 195 ordinary shares on issue.