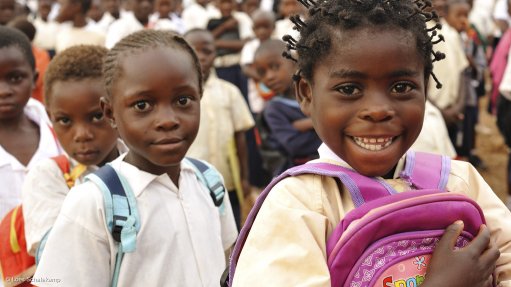 FIGHTING CHILD LABOUR The Good Shepherd organisation is particularly focused on supporting children who work in artisinal mines and are involved in the worst forms of child labour
Photo by: Loes Schalekamp
Natural resources provider Eurasian Resources Group (ERG) has partnered with international foundation Good Shepherd Sisters to fund its Bon Pasteur Alternative Livelihood programme, which aims to help break the cycle of violence and abuse endured by children in artisanal mining communities in the Democratic Republic of Congo (DRC), as well as improving their living conditions and life prospects.
ERG announced in January that it had entered into a funding agreement with the Fondazione Internazionale Buon Pastore Onlus – the Good Shepherd International Foundation – to support Good Shepherd, which is implementing the Bon Pasteur Alternative Livelihood programme at Kolwezi, in Lualaba province.
"The organisation is particularly focused on supporting children who work in the mines and are involved in the worst forms of child labour," ERG explains, which claims to be one of the largest cobalt and copper miners in the DRC.

The funding agreement will be implemented throughout 2017 and will enable an expansion of the Good Shepherd's existing Bon Pasteur Alternative Livelihood programme through ERG-Africa, a division of ERG.
The programme also aims to help increase food production on farming cooperatives and, thereby, boost food availability and revenues for those who participate in the programme along with their extended families.
"Supporting alternative livelihoods is in line with the Organisation for Economic Cooperation and Development and United Nations Children's Fund's recommendation to tackle child labour at the mines [in the DRC] through addressing its root causes – extreme poverty and the lack of alternative livelihoods," the company adds.

While neither child labour nor artisanal mining form part of ERG's operations, the company recognises the role that it can play in supporting positive change across both the local and global cobalt industry.
ERG-Africa already runs Participatory Rural Appraisal processes in the regions surrounding its existing operations, Boss and Frontier, and at its regional centre at Lubumbashi, in south-eastern DRC.
"Through these existing programmes, ERG-Africa has helped to provide support for local healthcare, farming and schooling."
Good Shepherd Kolwezi programme director sister Catherine Mutindi says Good Shepherd is committed to credible, transformative, integrated community development with a particular focus on persons at the margins of society, especially those in the artisanal mining communities in Kolwezi.
Mutindi further explains that a partnership with ERG, which is already committed to the fight against the presence of women and children in artisanal mines, provides added value to Good Shepherd's work in this area.

"The sisters at Good Shepherd have been humbly and diligently working to break the cycle of child labour in the Kolwezi region for some time. "With ERG now entering the Kolwezi region with our Roan Tailings Reclamation (RTR) project, it is an ideal time for us to support this programme. "Insight from this partnership may also help us improve our existing community work at our Boss and Frontier mine assets," notes ERG group CEO Benedikt Sobotka.
"We look forward to a long-term engagement in colearning, as we partner to reduce the presence of women and children [at] artisanal mines and explore alternative livelihoods for artisanal communities," adds Mutundi.
Sobotka highlights that the sisters and their local partners have dedicated a lot of time and hard work to helping others. "By executing this funding agreement, we have opened the door to what I hope will be a rewarding and constructive partnership over the months and years to come."
ERG has a presence in 14 countries on four continents and has more than 75 000 employees globally. ERG describes its project pipeline in Africa as competitive, with its existing footprint including copper and cobalt production assets in the DRC and Zambia, and development-stage platinum, coal, manganese, bauxite and fluospar assets in Zimbabwe, South Africa, Mozambique and Mali. The Metalkol RTR project, a major tailings reprocessing operation, is its flagship development and is expected to provide a long-term, stable supply of ethically-mined cobalt to the market. In the Republic of Kazakhstan, ERG represents more than 4% of that country's gross domestic product and about one-third of its metals and mining industry. The group is also a principal supplier of electricity in the country . ERG is also developing the 20-million ton a year Pedra de Ferro iron-ore production complex in Brazil.