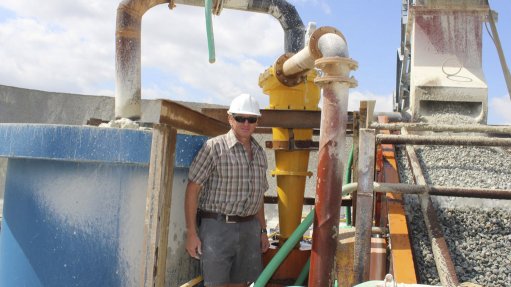 NEW TECHNOLOGY PAYS The installation of the Cavex hydrocyclone at CNC Crushers' Stilfontein operation has resulted in increased production and reduced slimes to the tailings dam
North West sand and aggregates supplier CNC Crushers raised throughput by 45% at its Roadstone Shaft 5 crushing plant, while simultaneously cutting back on maintenance, after implementing a full process-focused solution from industrial equipment supplier Weir Minerals Africa.
Weir Minerals GM for Trio and Enduron equipment JD Singleton explains that CNC Crushers, in Stilfontein, was experiencing high wear on the installed conventional cyclone, as well as on the older-technology pump, resulting in liners having to be replaced every 120 hours of operation.
"Our brief was to increase solids to the cyclone underflow and [improve] wear life on the cyclone feed pump."
Experiencing the continuous breakdown of older crushing technology and excessive oil use, causing high downtime frequency for the plant, CNC Crushers needed a solution that would use the existing footprint and infrastructure.
As a solution, Weir Minerals Africa installed a Warman WBH 100 slurry pump and a Cavex 400CVX10 hydrocyclone. It also replaced the existing cone crushers with Trio TC51S and TC36SH cone crushers to increase uptime and reduce maintenance costs.
"After 1 900 operating hours, the slurry pump was still running without needing any replacement parts, a vast improvement on the previous mean time between liner replacements of 120 hours," Singleton says.
According to CNC owner Carl Crous, this solution has enabled the company to take pumps off the critical maintenance list. "Pump problems are something of the past."
In addition, the hydrocyclones have proven to be more efficient than the conventional cyclones, highlighting the benefits of the Cavex hydrocyclone's laminar spiral inlet geometry.
"The Cavex hydrocyclone increased the mass pull to the underflow, which resulted in increased production and reduced slimes to the tailings dam," he says, adding that using new technology pays.
For their part, the cone crushers increased plant availability as well as production, while meeting the criteria of matching the footprint of the old technology. These crushers also incorporate multiple hydraulic cylinder clamping and adjustment, which enabled them to reduce the closed-side setting adjustment time from an hour-and- a-half to just five minutes.
In addition, the cone crushers' larger socket assembly has performed effectively under both extreme and light load conditions, providing a longer service life.
"Partnering with Weir Minerals Africa increased my production output significantly and my uptime increased overnight. I should have done this long ago," says Crous.
After the cone crushers had been installed, a spares and service agreement was put in place to maintain maximum plant availability.
"Spare parts are kept in stock with our agent in Klerksdorp, in close proximity to the customer, and a dedicated service team for the North West province is always at hand," explains Singleton.
Following the crusher upgrade, a competitor's installed primary and tertiary classification screens were replaced with a 5' × 16' Trio TIO5162 double-deck inclined screen and the final product screen was replaced by a 4' x 10' Trio 4102 double-deck inclined screen.