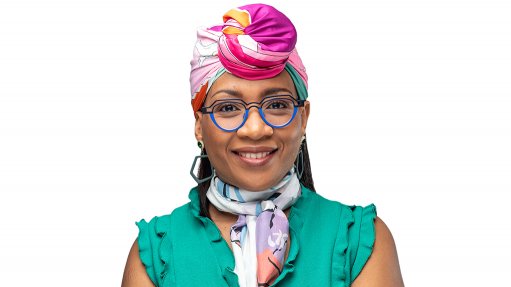 Prieska Power Reserve director Meta Mhlarhi.
JOHANNESBURG (miningweekly.com) – Emerging green hydrogen company Prieska Power Reserve on Tuesday announced a partnership with the State-owned Industrial Development Corporation (IDC) to advance a green hydrogen project in Prieska, in South Africa's Northern Cape province.
The Prieska Power Reserve Project is described on the company's website as being a catalytic project that will start producing green hydrogen and ammonia through a combination of high-yielding renewable solar and wind energy resources, along with the other natural resources of water and air.
Prieska Power Reserve's energy expertise and the IDC's investment platform and infrastructure financing have been connected to deliver technologies that produce green hydrogen and ammonia.
IDC approval of a facility will ensure that the project reaches financial close in the first half of next year for a journey that began in 2018.
The first phase will target the production of 72 000 t of green ammonia a year with a green hydrogen content of 12 900 t beginning in 2025 and escalating to over 500 000 t by 2030, the company stated in a media release to Mining Weekly.
"We're thrilled to partner with the IDC," said Prieska Power Reserve director Meta Mhlarhi, who is also chairperson and executive director of Black Energy Professionals Association, formed in 2017 to achieve radical economic transformation of South Africa's energy sector.
"The dynamic combination of experience and talent has the potential to contribute not just to South Africa's energy security through innovative sources such as hydrogen, but also the economic recovery and growth of our country," Mhlarhi added.
PROJECT MILESTONES
The project has reportedly met a number of critical milestones to date in order to achieve its targeted financial close of H1 2023.
"Some of the completed milestones include the chemical plant, the wind, solar and microgrid feasibility studies, which indicate a huge potential for the project," Prieska Power Reserve director Martin Walzer stated.
"The project is currently also in the process of finalising technical design work. It is through partnerships such as the one with IDC that we are able to further progress our work," Walzer added.
The location and access to infrastructure allow for the delivery of competitively priced green hydrogen and ammonia to the global market, the release stated.
CONTRIBUTING TO SOUTH AFRICA'S GREEN ECONOMY
In recognition of the project's national significance, Prieska Power Reserve has been identified as strategic in the Northern Cape's Green Hydrogen strategy and has undergone the process of achieving classification as a national strategic infrastructure project, or SIP, which is awaiting gazetting.
"We look forward to creating jobs, and establishing and growing new enterprises, particularly for women and youth, to fulfil the increasing demand for this new industry," was the comment of Prieska Power Reserve director Cobus Vermeulen.
Green hydrogen has been identified as a clean energy source that could help the world to achieve net-zero emissions in the coming decades.
Prieska Power Reserve, in the words of Prieska Power Reserve director Makole Mupita, will catalyse a collaborative approach between business, the province and national government in achieving the country's hydrogen goal and positioning the Northern Cape as a hydrogen hub.
The initiative is described as being ideally positioned to become a major participant in the worldwide green hydrogen and ammonia markets. The project's developer, Mahlako a Phahla Investments, is highlighted as a pioneering player in the South African energy space that has progressed from developer to investor over the years.