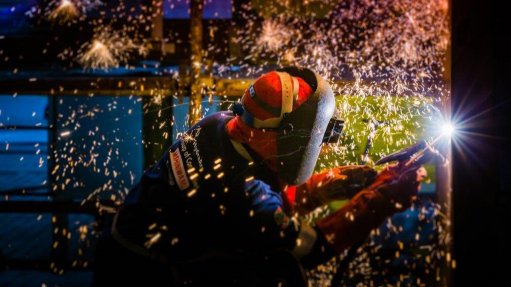 SPARKS FLY Continuously refurbishing equipment can increase the life span by up to 120%
The current steep increase in commodity prices has led to mining clients' upgrading and maintaining their equipment to reduce downtime and maximise output, says steel fabricator Hydra Arc project management office manager Tyrone van Heerden.
While rising costs have had a negative impact on the operational costs of the mining sector, "commodity prices are at an all-time high, allowing for large profit margins".
Consequently, Hydra Arc clients are pushing mine uptime to ensure maximum production and are reluctant to reduce maintenance costs and risk production downtime.
Hydra Arc provides a variety of turnkey services for the mining industry, including cranage supply; scaffolding services; sandblasting and painting; truck body refurbishment; bucket refurbishment; jaw refurbishment; shovels; shoes; and new fabrications. Its services also includes pipe fabrication with installation, tank fabrication with installation and mechanical installation.
Van Heerden says that, amid increased maintenance activities, there has also been an increase in demand for capacity and skills from a reliable and trusted heavy engineering fabricator.
Hydra Arc's fabrication facility – of about 75 000 m2 – and its resource database of more than 3 000 skilled employees, have enabled the company to rapidly respond to client requirements and expectations, despite various sector challenges.
"These resources are also supported by our Hillside Training Academy, which trains thousands of artisans every year and is located next to our current fabrication facility," adds Van Heerden.
He says Hydra Arc is fortunate to be a leader in numerous industries, hence, the company's having a large network of suppliers and import specialists, as well as the capital required to ensure that bulk materials can be stored in its laydown areas.
New Life in Old Equipment
The impact, heavy use and wear associated with using mining buckets and jaws is significant. This leads to weakened components and cracking, which, in turn, results in inferior performance and potential failure.
"The larger the bucket, the larger the income loss and increased repair and refurbishment time," says Van Heerden.
As the buckets are the primary source of transporting ore to the crushing plant, damaged buckets can halt production immediately with potential longer term production impacts. Depending on the mine, this can result in significant revenue loss per day, owing to production losses, he notes.
However, an effective and efficient maintenance plan can result in numerous advantages when refurbishing and repairing mining equipment such as extending the life span of the equipment and reclaiming undamaged material, as well as lower costs in terms of design changes and maintenance.

Although repairing items reliably is limited when the complete failure of equipment becomes inevitable, continuously refurbishing equipment can increase the life span by up to 120%.
Therefore, it can significantly reduce the capital outlay of equipment replacement, which, in turn, ensures a cost-effective mining operation.
Hydra Arc offers clients a simplified process to ensure that equipment is refurbished and repaired with as little disruption to operations as possible.
When Hydra Arc receives a request, it either collects the equipment from the client or the client can have it delivered.
Once at the company's facilities, the equipment is sandblasted to ensure a clean and exposed inspection surface, with nondestructive examinations conducted to determine the repair and refurbishment scope, followed by the refurbishment process.
Refurbishing equipment can differ significantly, as it depends on the wear of the equipment. Larger components often require the repair of numerous cracks and/or the replacement of hydraulic equipment, wear plates, liners, bushes and the line boring of the equipment. Major repairs include weld build-up or the replacement of the ears, floor, backplate, jaws and teeth.